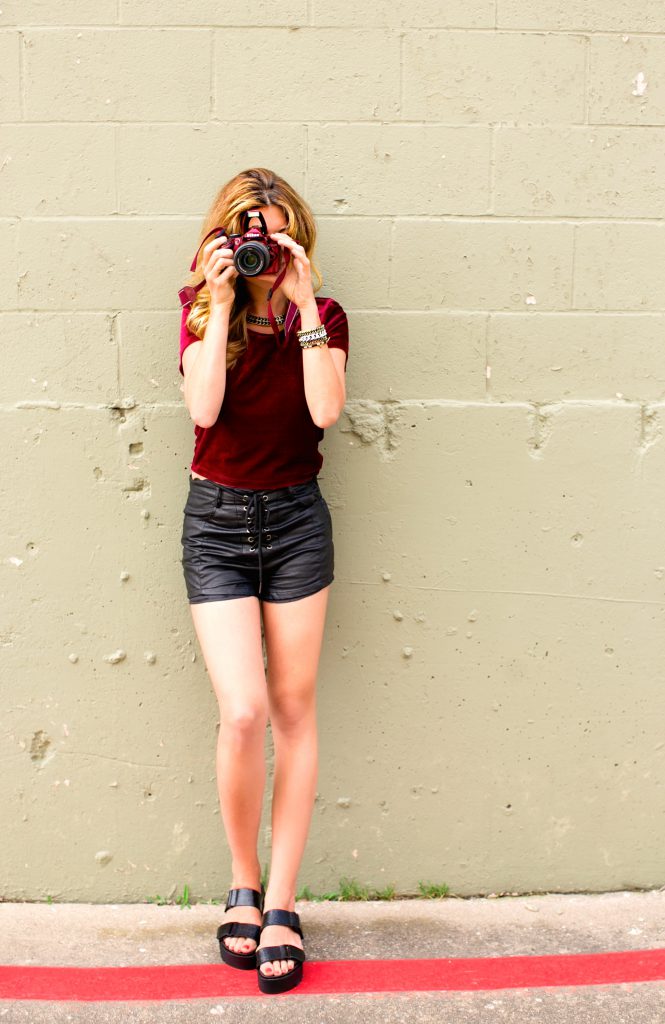 my favorite, idiot-proof camera ON SALE here// velvet cropped top: fevrie fashion // similar shorts here and here// platform sandals// jewelry: Rocksbox.com (**this service is amazing! They assess your taste in jewelry via a quick questionnaire, and then send you a box of jewelry for you to wear. Then, you send it back, and you get another box the next month!  Use code FashionVeggieXOXO at checkout for your first month FREE!)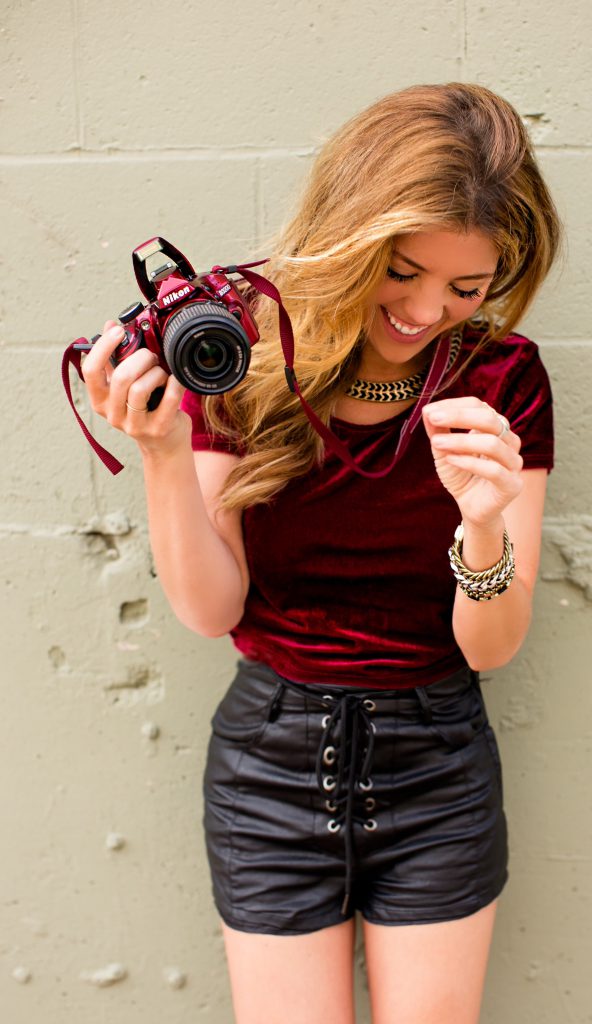 "Hi. My name is Molly, and I'm a "serial monogamist."  In the past I have jumped from one long relationship to another, and because of how passionate (crazy? noooo, no, passionate) I am, at least 40% of my time and energy tended to be devoted solely to my significant other and cultivating our relationship.  About 30% was then designated to my work, and the remaining 30% went to spending time & taking care of my animals.  I was lucky if I could work in a brunch with girlfriends every few weeks to catch up.  Basically… there were a few years there where I lost myself somehow in my relationships and in the daily grind.
While this is technically a manageable way to life your life, I have realized through painful trial and error that it isn't healthy, nor is it conducive to you being your best/most fulfilled self– whether or not you are in a relationship.  The solution: Hobbies!  Things that are a creative outlet or a tension release, things that keep you sharp/fit/emotionally satisfied, & keep you expanding your social network of people with similar interests.
Some reasons to "get a life" ….
– A man likes a women who has her own life and "stuff" going on. It is attractive, and communicates to them that you know who you are and prioritize the things that make you happy.  It says to them that this is a person with depth and talent, and that you aren't completely dependent on them for your happiness.
– Remember back in school when you were the best swimmer on the team / head cheerleader / won 2nd place in the district-wide art show?  I find it sad that these things we loved so much at one point– things that made us who we are– seem to just slip away once we enter the real world.  Rediscovering yourself is exciting, and is a reminder that you are a talented and unique person, which then leads to self-love.
-The busier you are, the less time you have to focus on the negative.  Anxiety is less likely to keep you up at night if you're exhausted from your 7pm kickboxing class… Guaranteed, you'll sleep like a baby as long as you keep yourself active with things that you love.
Some ways you can go about getting a life …
–Meetup.com.  Y'ALL– there is a meetup group for everything!!! I'm telling you, if you have a desire for anything from basket weaving courses to floral arranging classes, this should be your go-to.
-Be a coach.  Call the local middle schools/high schools and ask if they are in need to a cheer coach/football coach/art teacher.  You'd be surprised how eager they are to fill these spots with people other than with their math teacher who can barely draw a stick figure or throw a ball.
-Ask your friends what hobbies they've been wanting to pursue and see if there are any commonalities there.  That way you can get some extra friend-bonding time in, and can keep each other accountable to keep at it.
Some ideas for lessons/classes/hobbies (shopping doesn't count! haha)…
– Cooking lessons
– Join/start a book club
– Volunteering for whatever cause tugs at your heartstrings. I challenge you to contact that org. today and request info on how to get involved!
– Piano/guitar/drum lessons
– Get arty: pottery/painting/sketching/sculpting/photography
– Yoga/ zumba/ boxing
***
I, for one, make sure that I make the time to draw, paint, and take photography lessons.  Last year I coached a middle school cheer team, and it was SO much fun. I volunteer for animal rescue groups about every other weekend, which feeds my soul unlike anything else can.  If you have a second, leave a comment… I'm so looking forward to hearing what hobbies you guys have been thinking about pursuing!
Much love!
M