2018 is in full swing, and with it has come the newest selection of Pantone colors. The color of the year, a very welcome change after last year's barely-wearable yellow-green, has been declared Ultra Violet, a "blue-based purple that takes our awareness and potential to a higher level. From exploring new technologies and the greater galaxy, to artistic expression and spiritual reflection, intuitive Ultra Violet lights the way to what is yet to come," according to the executive director of the Pantone Color Institute.
After the year we've had, an indicator of changes ahead is exactly what we the people are needing. It shouldn't be ignored that our color of the year comes from harmoniously blending the politically polarizing colors of red and blue. Could this be the color of hope and peace that is to come in 2018?
So— how do we incorporate this color into our wardrobes/lives for little morale AND style boost? Whether you're a 20-year-old student, a 35-year-old mama, or just a fashionista in between, I have some ideas and inspiration for you (all animal-friendly as usual). Let's make like Alice Walker and get into the color purple!
clockwise: 
undies: hanky panky- regular or plus size // cruelty-free, vegan lippie: kat von d // velvet jeans: marc jacobs // baby carrier: baby k'tan // tassel earrings: design b london // vegan leather padded headphones: beats // handbag: gunas // grid pattern, long sleeve blouse: sanctuary // backpack: fjallraven kanken // booties: on major sale- aldo //  sunglasses: ray ban // cruelty-free, vegan nail polish: luna // cruelty-free, vegan eyeshadow: half off-  elf cosmetics // scarf: almost sold out- asos
xx
Molly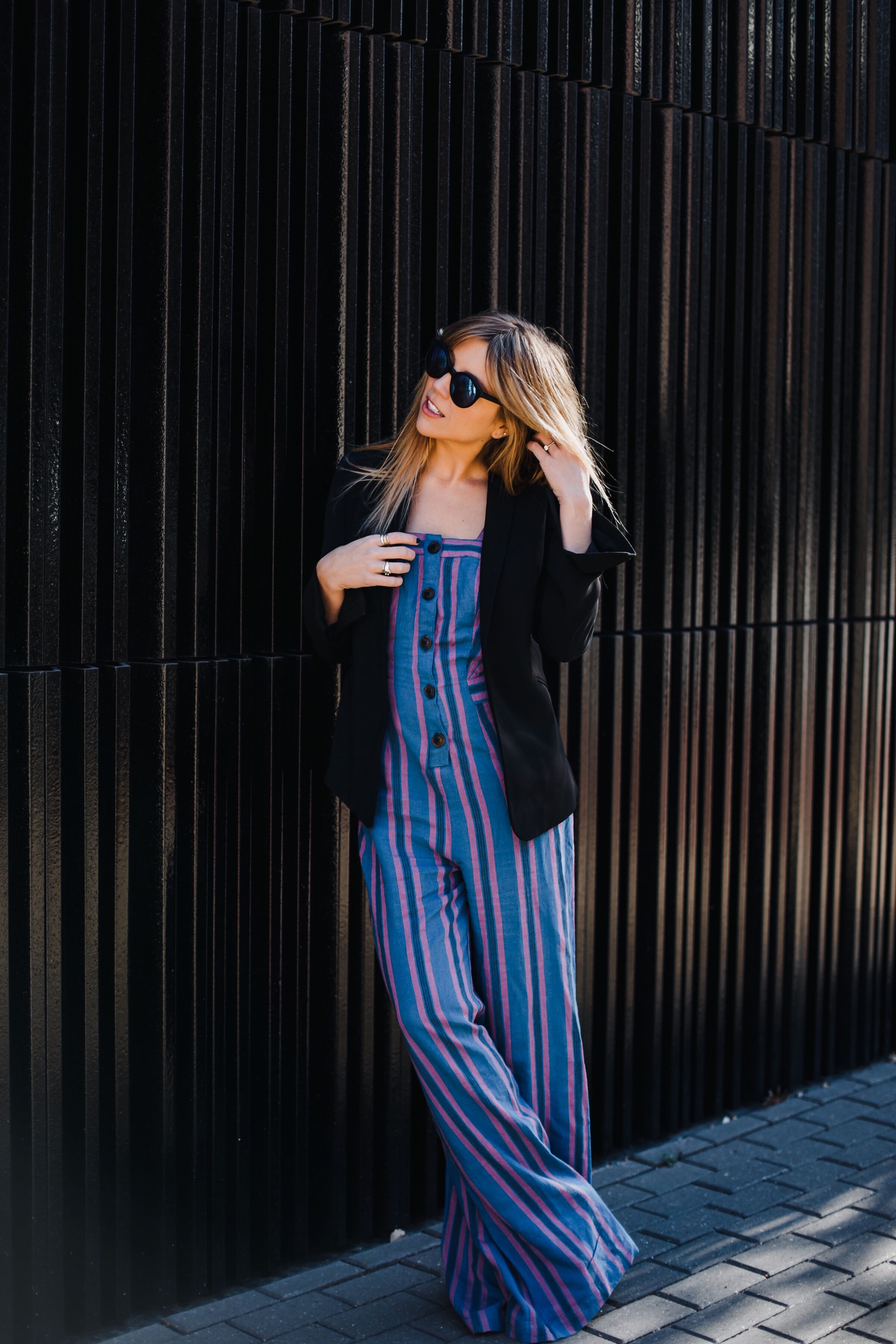 Jumpsuit (30% off, comes in yellow as well) (size 4 for reference)
Blazer (petite and regular available)
Black framed/ blue mirrored sunglasses (more colors available)
photography by MAS Photography