As a somewhat out of the loop 38 year old mom, I am not always one for the hot new fashion trends– BUT, the recent athletic dresses craze has managed to get my attention.  While I'm by no means an athlete, I do love me some athleisure; and generally I am a fan of wearing one single piece of clothing on my entire body (in this case, an all-in-one bra/dress/built in shorts).  I am also attracted to the versatility of these dresses!  They seem appropriate + effortlessly cute for basically any daytime occasion, whether you're at the playground, running errands, or headed to a lunch date with friends.
Sooo many brands are coming out with these athletic dresses right now, so I chose to review the 4 brands I was personally interested in & had heard the most "buzz" about:
Outdoor Voices
Halara
Girlfriend
Old Navy
I want an athletic dress that:  
is breathable/won't be too hot during our stifling Texas summer months
is not too difficult to put on and take off! Especially for bathroom purposes
has a supportive top (size F boobs over here, and I want a dress I don't have to wear a bra with!)
has built in bottoms or bike shorts
is comfy AND flattering on my postpartum bod
Does it exist? Lets see 🙂 Below, I'll list my hot takes on the each dress (in the order I tried them on in my recent videos on Instagram & Tiktok):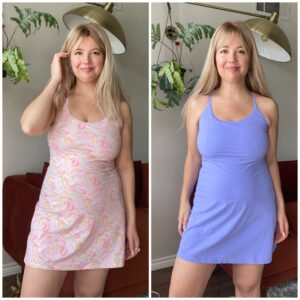 I'll say up front: this actually ended up being my favorite! (Of freaking course the most expensive one was my favorite.)
The fabric is lightweight but high quality (not "soft"– more of a Lululemon shorts or a tennis skirt feel to it)  and felt like it would be the coolest/most breathable when temps climb.  Plus, it won't show any sweat unlike some of the colored cotton options.  This dress showed the least amount of cleavage out of all the dresses I tried, and did not have pads. In fact, it didn't have a technical "bra" built in up top, but with the combo of compressive material + adjustable straps,  I actually felt very supported WHEN I SIZED DOWN ONE, which I do recommend doing. (I knew to try a size down based on reviews I read online!)  This dress has built in bike shorts with two pockets!
Note: this dress had the quickest shipping/arrival out of all of them.  It also offers some super fun, retro-style patterns. Check out the thousands of positive reviews!
Downside: It's not the easiest to get on and off, but if you loosen the straps up top before pulling the dress down, it's not difficult. f you're 5'7″ or over, this option may be a tad short for your liking.
In a nutshell: I love this dress and want all the colors + the daisy pattern now!  Despite being form fitting, the actual fabric was the most flattering on my tummy, as I couldn't see my belly button indentation or outline of my tum tum.  It is the shortest length out of the bunch (which I liked), and if you aren't tall, I suggest you try sizing down.  This one is a keeper for me!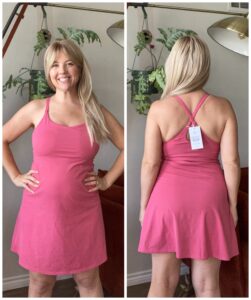 2) HALARA ($39-$54.95 depending on bra size… sizes XS-4x)
*** This brand has sooo many options for dresses, but I am reviewing the Everyday Cloudful 2-in-1 Activity Dress, specifically for DD-F cups!
So– I'm conflicted about this dress.  I think, if I'm being honest–  if I didn't mind flaunting my lower stomach, I would like this dress more. But I did feel like it kind of highlighted the area I'm most self conscious about.  Also, the dress looked shorter and sportier on the website than it did on me– which is somewhat to be expected since I'm 5'3″ and I'm sure the models are like 5'10'.
The  fabric is a bit thick and super soft, it has a built in bra with cups and decent support up top, and the dress is listed at a reasonable price point.  This dress would be great for pregnancy (maybe not deep into the 3rd trimester, but definitely up to that point)!  It was the easiest to take on and off, as it's extremely stretchy and basically can be peeled down like a swimsuit. For this reason, I also feel that this one would be somewhat breastfeeding friendly (as long as you're open to kind of whipping your boob out over the top of the dress or pulling the front down!)
Note: I hated the "flare" version of the Cloudful Halara dress.  Hated. It felt like a wrinkly, unflattering costume.  Trust me and stick with the regular one! Another note: the version of this dress NOT for DD cups and over is on sale for $39!
A downside:  This one took the longest to arrive, and delayed my review! Grrr.
In a nutshell:  Conflicted.  It just feels a bit "basic" to me or something, but it's affordable, soft and stretchy, and has a major cult following so maybe its just a random personal preference thing. (Shrugs.)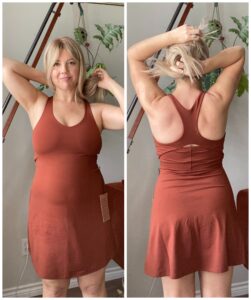 3) GIRLFRIEND ($88, on sale for $61… sizes xxs-6xl)
***This brand also has many dresses to choose from, but this is the Lola V-neck!
This dress is the one sustainable option on my list, AND has the most size-inclusive range + marketing… So they immediately get extra points for that!  It is made of recycled bottles, and has built-in UPF 50+…. cool!
This dress' fabric was the softest material of the bunch, and the dress was also the most supportive one up top. It very much felt like a comfy sports bra, and is perhaps the only athletic dress that you could actually work out in without adding an additional bra.  However, it was super clingy on my stomach, and I found myself feeling self conscious about that. **Do not size down in this one!  The length was a bit long for my taste, but as I've mentioned,  that's typical for me.  Bike shorts/unitard underneath. I do like this one!
In a nutshell:  If you don't mind tightness on your stomach and a bit longer length… QUALITY and support-wise,  I think this might be the best option I tried. I do recommend, but PERHAPS not for me, just due to a fit preference. I want to exchange it for their Bike Unitard and see if I like that one better… I have dreams of wearing it with a loose white button down for errands… but thats  post for another day!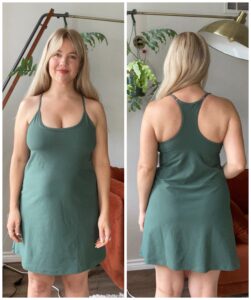 4) OLD NAVY ($45, on sale for $39… sizes XS-4xl)
This dress is the roomiest fit of the ones I tried on– and while super comfy, on me it looked a tad shapeless.  BUT I want to note that on other (usually taller) people I've seen, it looks perfectly cute!  If this dress were closer to what I was looking for in general, I would be interested to try a size down (I wore a medium, my typical size)– but as it stands, this dress doesn't have built in shorts, which is one of my requirements.  HOWEVER– the no shorts factor absolutely makes it WAY easier to change out of/use the restroom!
It also had decent support and a built in bra. It does show the most cleavage out of all the dresses I tried.   Soft fabric. Price is definitely right, and its on sale right now! Would definitely be bump-friendly, along with the Halara dress.
In a nutshell: Super comfy, easy, and affordable, but on my body it looks like a basic dress, versus a sports dress. My take is that this may not be the best option for bustier women; but I do think it would be the easiest to breastfeed in!   I wish it had built in bottoms, but I actually hear that they've JUST come out with another version of the dress that does… So I'd be interested to try that.
All in all–
I would say the clear winner *for me*  is the Outdoor Voices option!  I'm keeping both of the ones I ordered:  the purple (my typical size medium) for days I want a more relaxed fit; and also the pink patterned one in a size down (I've already worn this one around town a bunch, and I get lots of compliments!)  This dress makes me want to go play tennis and then go grab a cocktail with a friend– which is very much the vibe I'm going for!
I am interested to try other brands, like North Face (some reader have already let me know that this is a fave of theirs), Athleta (I hear this one is fabulous for women with smaller boobs, small waist, and curvier lower half), and Beyond Yoga.   I will update this list if I do try any of those/others!
I also want to mention that my friend Jess Keys recently did a very similar roundup and review; while there is some overlap in brands, she did cover brands that I didn't, has a different build than me, AND had some differing opinions, which is fun.  If that would be helpful to you, you should pop over and check out her post!
Anyway– I hope this was helpful!  Go forth and look sporty!
xx
M