It is safe to say that we got in some major travel in the final few months before baby #2!   My absolute favorite trip of the bunch was our official Babymoon/Anniversary trip… TO DISNEY WORLD, and the luxurious Four Seasons Orlando!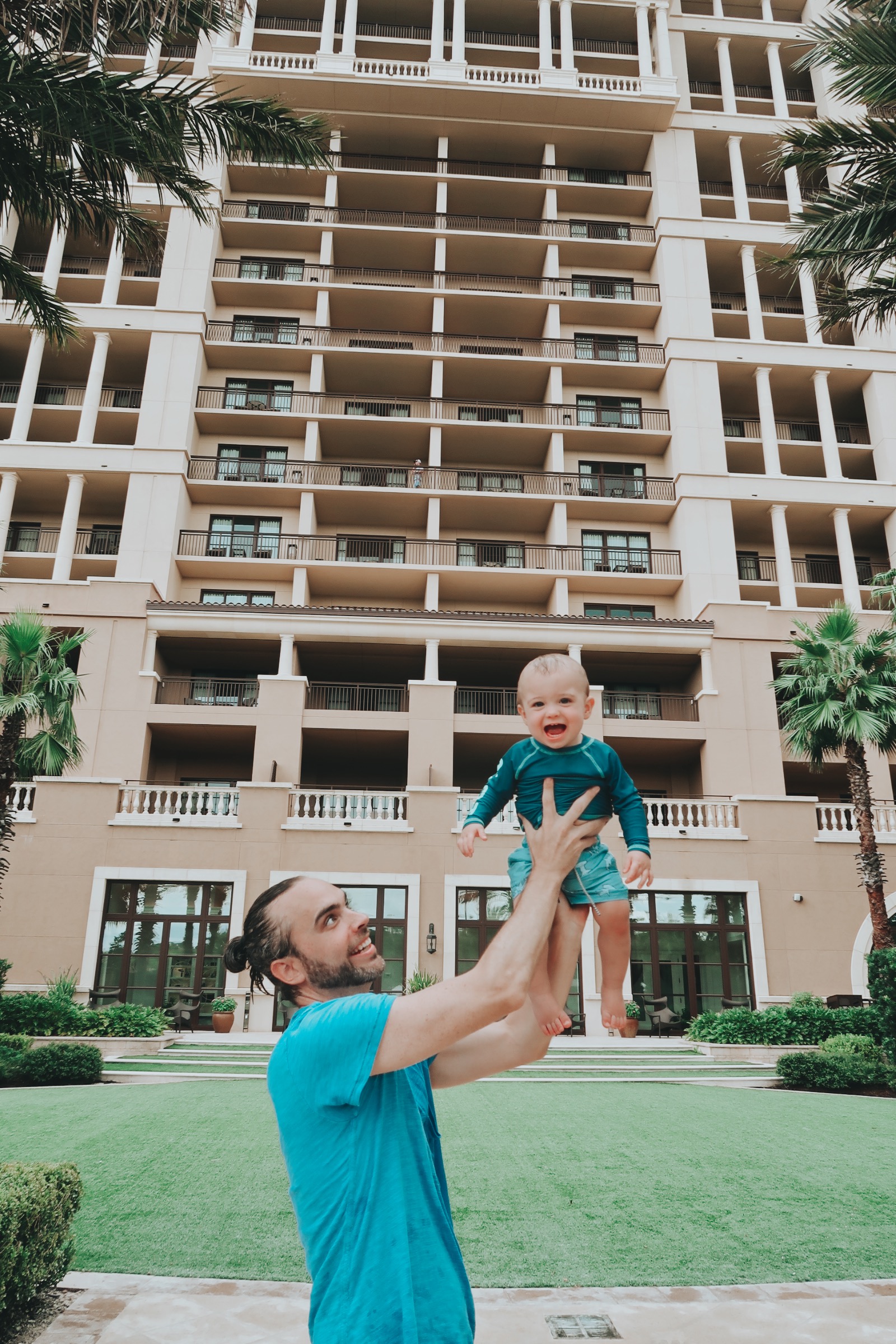 Now, I know what many of y'all are thinking.  Why go to Disney World now, rather than when River is older, since he obviously won't be able to remember this trip?  A few reasons.  A) This trip was a BLAST for all of us, and, because of our stay at the Four Seasons Orlando, it was very fancy and adult-feeling for Matt and me.  B) Who cares if he won't remember it? He won't remember the music lessons I take him to every week, or the playdates with other toddlers at the park, or the giggly snuggles we give him before bed. But it makes him happy in the moment.  And isn't that really the point? 
I've also gotten a lot of questions about HOW to do Disney World with a toddler.  I'm not sure that my way will work for everyone else, but I'm happy to share our experience, things we learned, things we wouldn't do again, and some tips and tricks that made our trip as smooth and enjoyable as possible. 
THE FLIGHT
Gosh, flights with babies/toddlers are so unpredictable.  Sometimes I fly with River and it is smooth sailing from the moment we take off to the moment we land.  Other times it's inexplicable screaming and constant squirming the whole time, where you just KNOW everyone else on the plane kind of wants to gang up on you and throw you out the emergency exit door.  Depending on your airline, fees vary for buying your baby their own seat— for us, it was a $200 fee, and we splurged on it.  This way, River stays in his Doona carseat (which is really much safer than putting your kid on your lap the whole time… no judgment, I've done that plenty of times, too!), and has a much better chance of sleeping.  I also come on the flight prepared with LOTS of snacks, plus two toys that River hasn't played with before (borrowed from a fellow mom friend, or even something just super simple from the dollar store should do the trick– as long as it's new to them!).  Also, I always have River board the plane wearing an overnight diaper so that, unless he has a stinker (as we call it), we don't have to cram ourselves into the gross airplane bathroom–some of which have fold-out changing tables, and some of which do not– and attempt to change him without injury to ourselves. During takeoff and landing we always make sure that he has his sippy cup handy, which will help with painful pressure they may feel in their little ears.  I hope any of this was helpful!
THE HOTEL
What to say about The Four Seasons Orlando?  It was a dream, really.  Not only because of how gorgeous it is, and how amazing the customer service is (FS is famous for this, and in my experience, it's true– the whole staff is basically on another level)– but because it's the only place I've ever stayed that is truly the epitome of a luxury experience for adults, while also being crazily kid-friendly!  I don't know how they pull this elusive combo off… All I know is that we will be back.  But I'm getting ahead of myself.
Basically after a long travel day, we walked our exhausted selves into this gorgeous gorgeous place in sunny Florida, were greeted by warm and friendly staff members who knew River's name and had a toy waiting for him, were brought up to our room where they had fresh fruit, vegan snacks, and a HAPPY ANNIVERSARY AND BABYMOON!!! note waiting for us.  The room was super clean and airy and roomy– it honestly felt like a really, really nice home instead of a hotel room!  We decided then and there that we might not leave the hotel the entire trip.
The attention to detail and the Four Seasons' tendency to "go the extra mile" really does make such a difference, and makes it so FUN!  They had a whole, cute pregnancy menu waiting for me (things like pickles and ice cream, etc. etc.) as well as a pregnancy service menu, which offered things like prenatal massages and yoga.  They had a little stuffed deer waiting for River in his crib, along with a little goodie bag of vegan, cruelty-free, non-toxic baby products like shampoo and bubble bath.  Our view was FABULOUS– we had a big balcony where we overlooked the expansive, lush FS property, and where were told we could watch the nightly fireworks (which, it turns out, did NOT disappoint! Such a fun and romantic ritual for us parents to sit on the balcony, watch fireworks, and eat vegan room service macarons at night after River had gone to bed).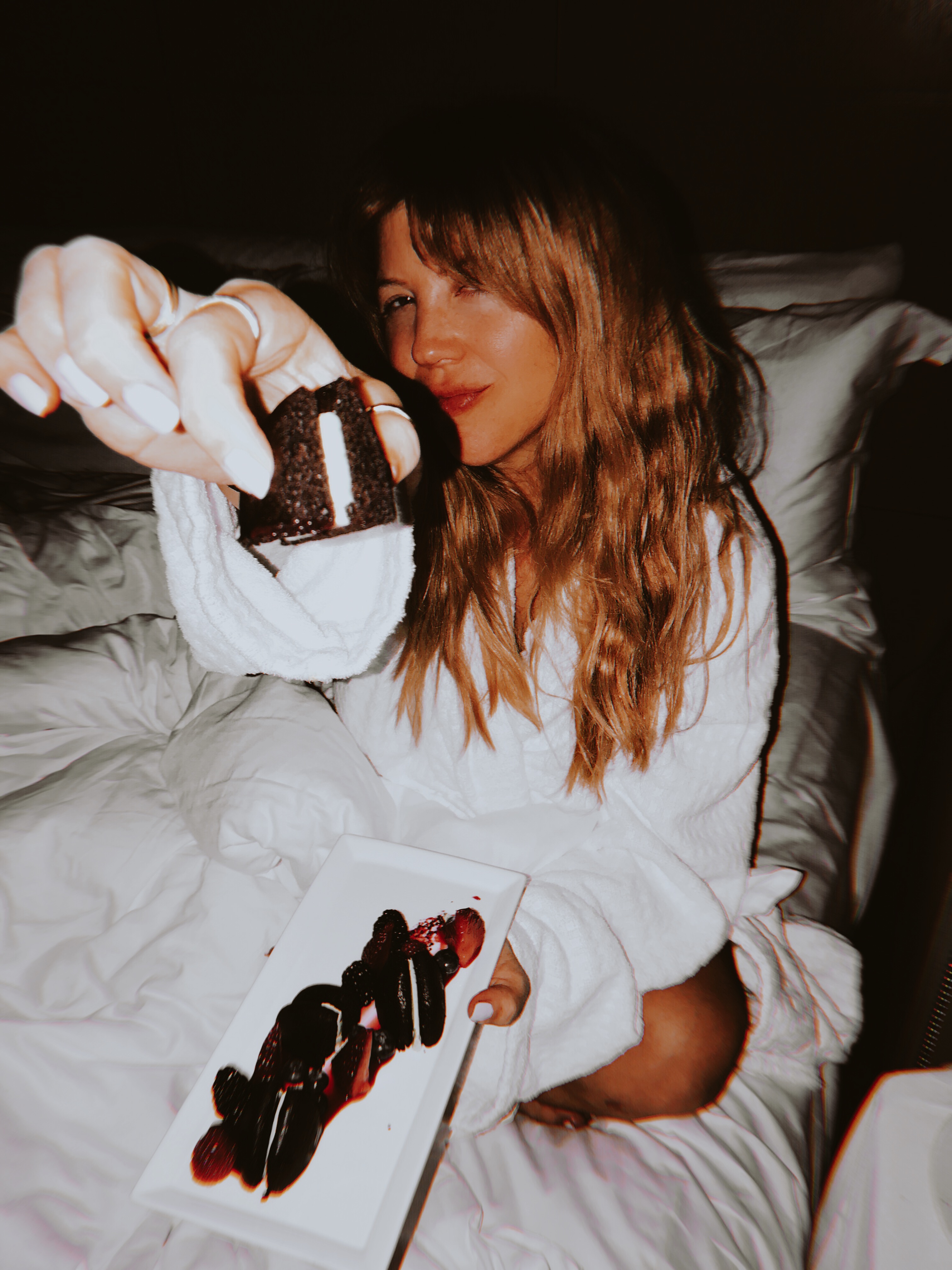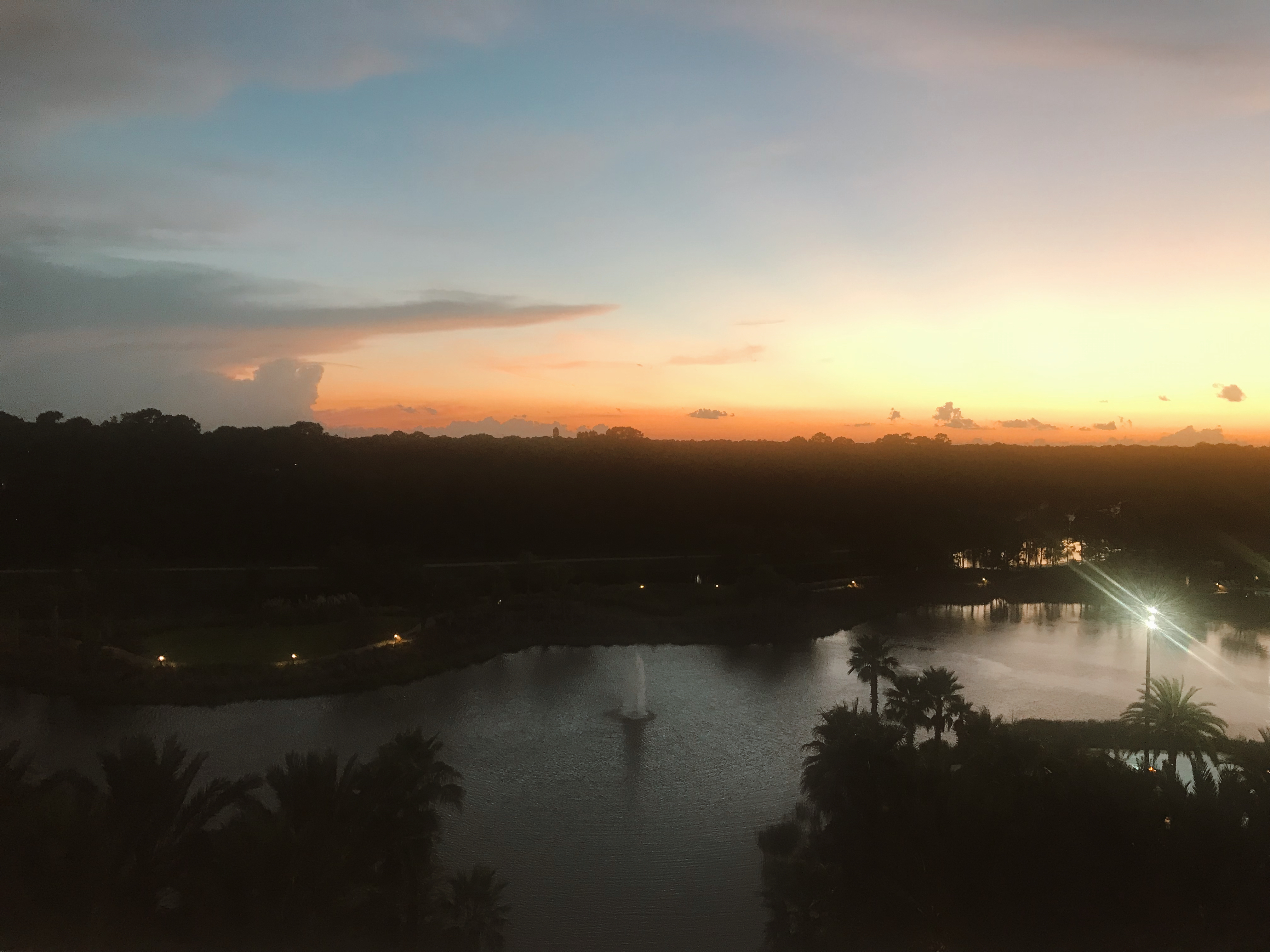 OH! Here's where I officially fell in love with them:  about 10 minutes into our stay, we realized we had forgotten one of our bags at the airport (OMG come on!!!).  We called down to the concierge, and they told us not to worry, and that they would take care of everything. With what an only be assumed was some kind of Four Seasons voodoo magic, we had a smiley gentleman knocking at our hotel room door within a couple of hours, holding our missing bag!  It saved us a HUGE hassle of tracking down the bag, potentially having to pay a cab to take us back to the airport, etc. etc.
We put on our swimsuits and coverups, and headed out to explore.  The property was extensive, but not so massive you can't easily hit all the spots. What I loved about it, too, is that staying at the Four Seasons Orlando is an experience in and of itself, due to the multiple and varied pools and the abundance of dining options.  They had one beachy-feeling pool overlooking a lagoon, one that functions as a "lazy river," and one–Riv's favorite– that serves as a splash pad with fountains and little slides.  We hit each one and had an absolute blast!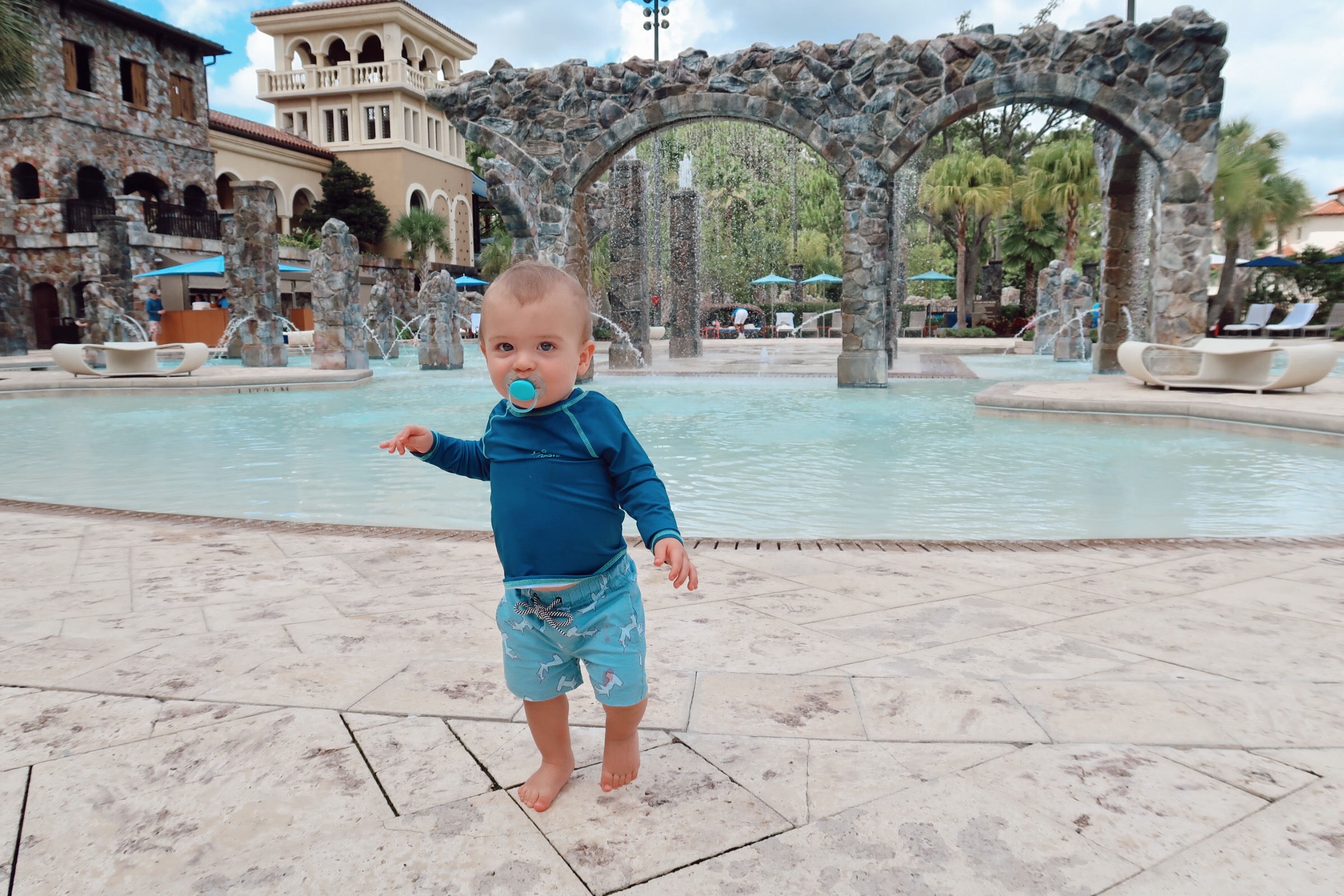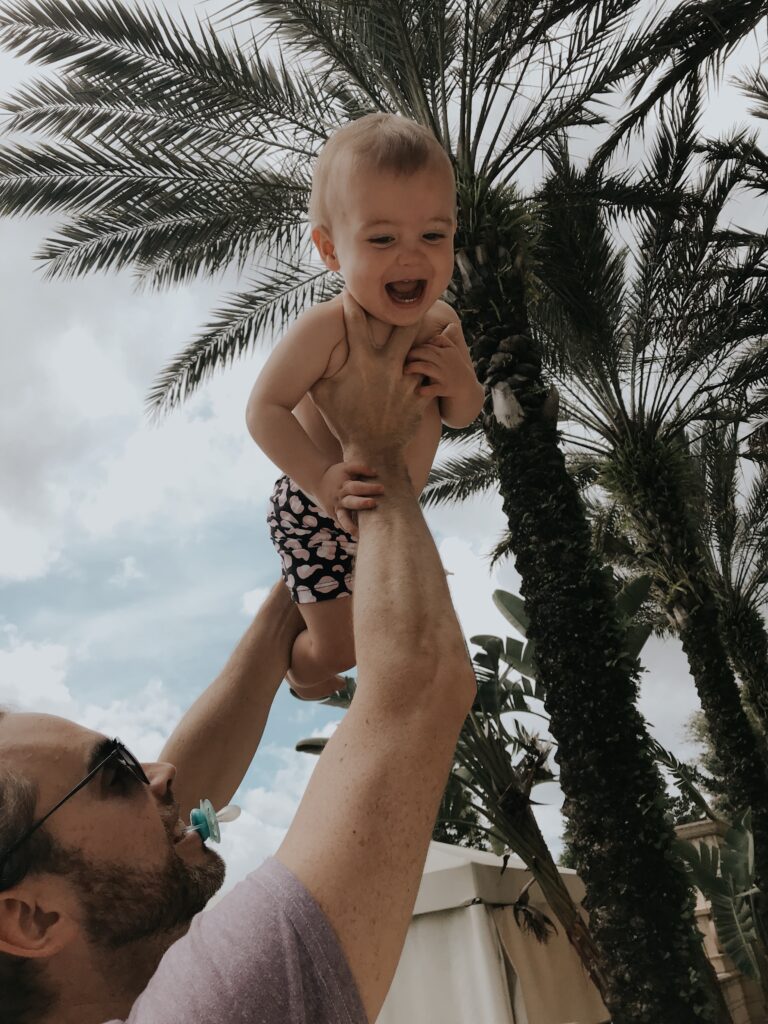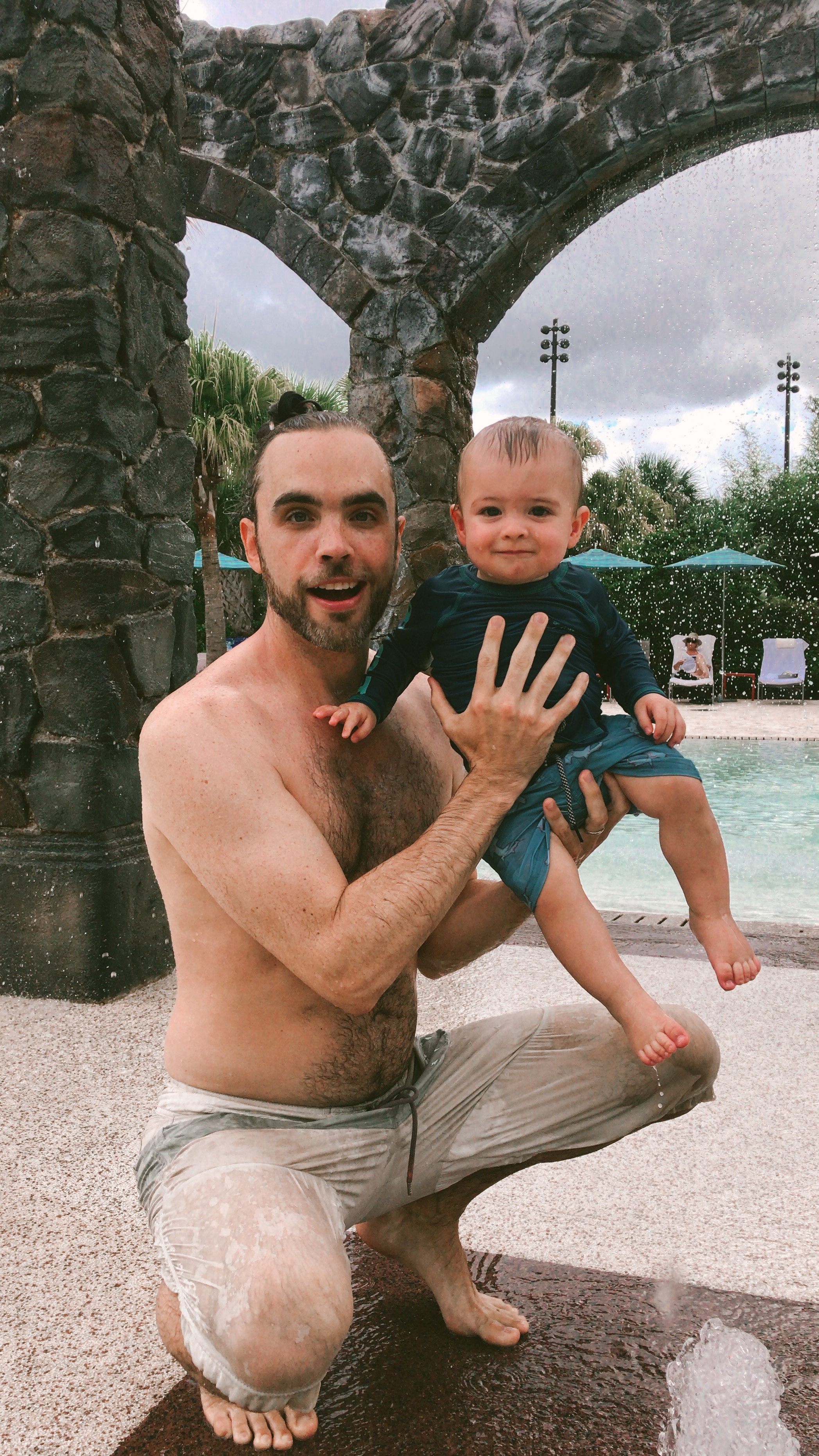 THE FOOD
My favorite place to eat was, BY FAR, the "character breakfast" at Ravello, an incredible restaurant on the Four Seasons property.  It is just so, so fun– you and your little one can meet Mickey, Minnie, Goofy, and the gang… and hopefully, your babe will enjoy the characters more than River did!  He warmed up by the end, but man– it was a shock for him when he first laid eyes on them. Regardless, I saw a lot of other kids whose days were completely made by the characters, and who couldn't get enough of their hugs and high fives!  There is a buffet, but honestly, I would recommend asking the staff to make you a meal!  We mentioned to our amazing waiter Cisco (yet another FS staff member we were absolutely blown away by) that our family eats plant-based, and before we knew it, he had drummed up vegan blueberry pancakes for us to share, a tofu and veggie scramble for me, a fresh fruit plate and organic almond milk for River, and a vegan omelette for Matt.  Oh, and green smoothies for all of us as well.  We were BLOWN AWAY by the food.  We went back to Ravello for breakfast every single day of our stay, knowing we couldn't enjoy anywhere else quite as much.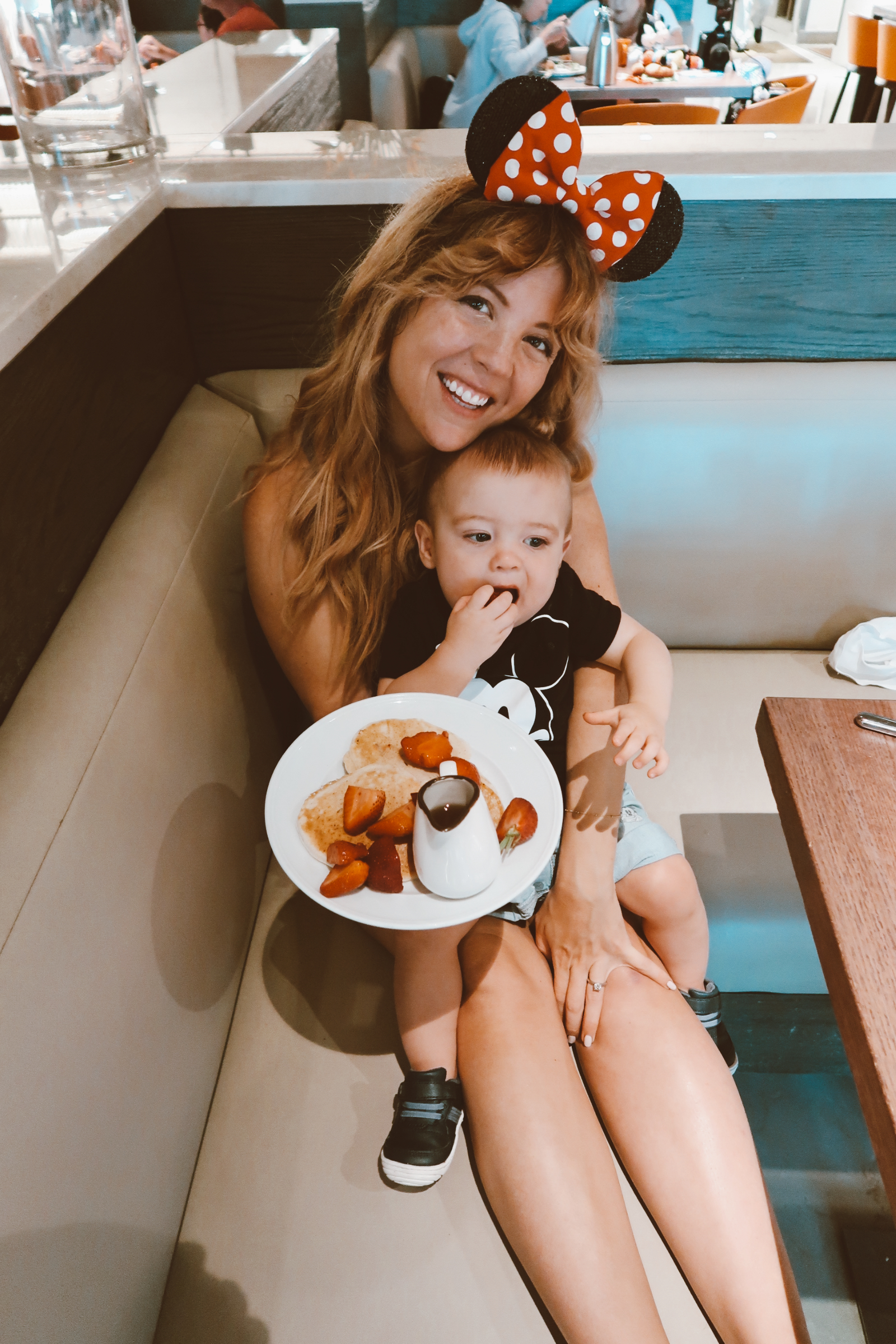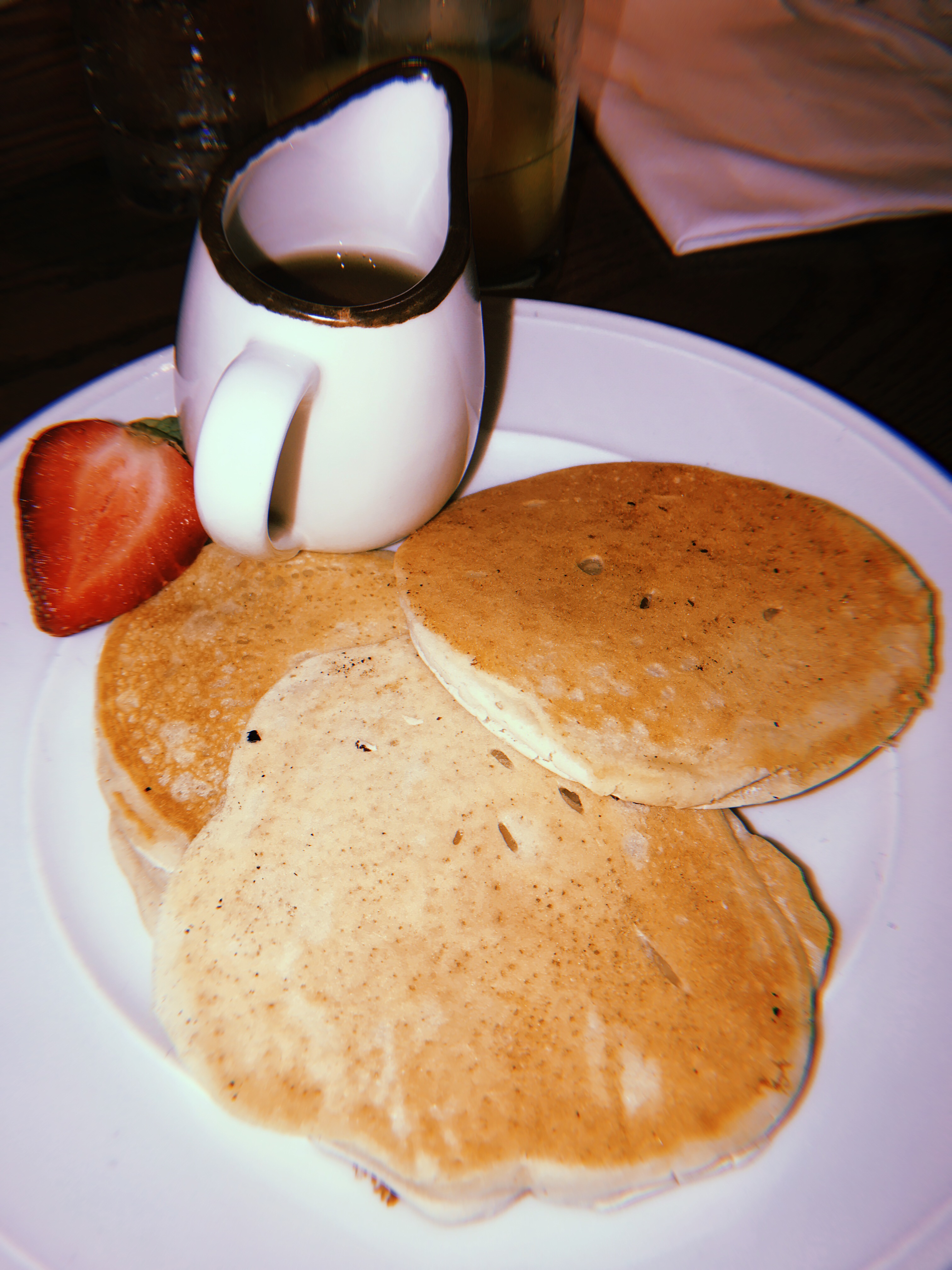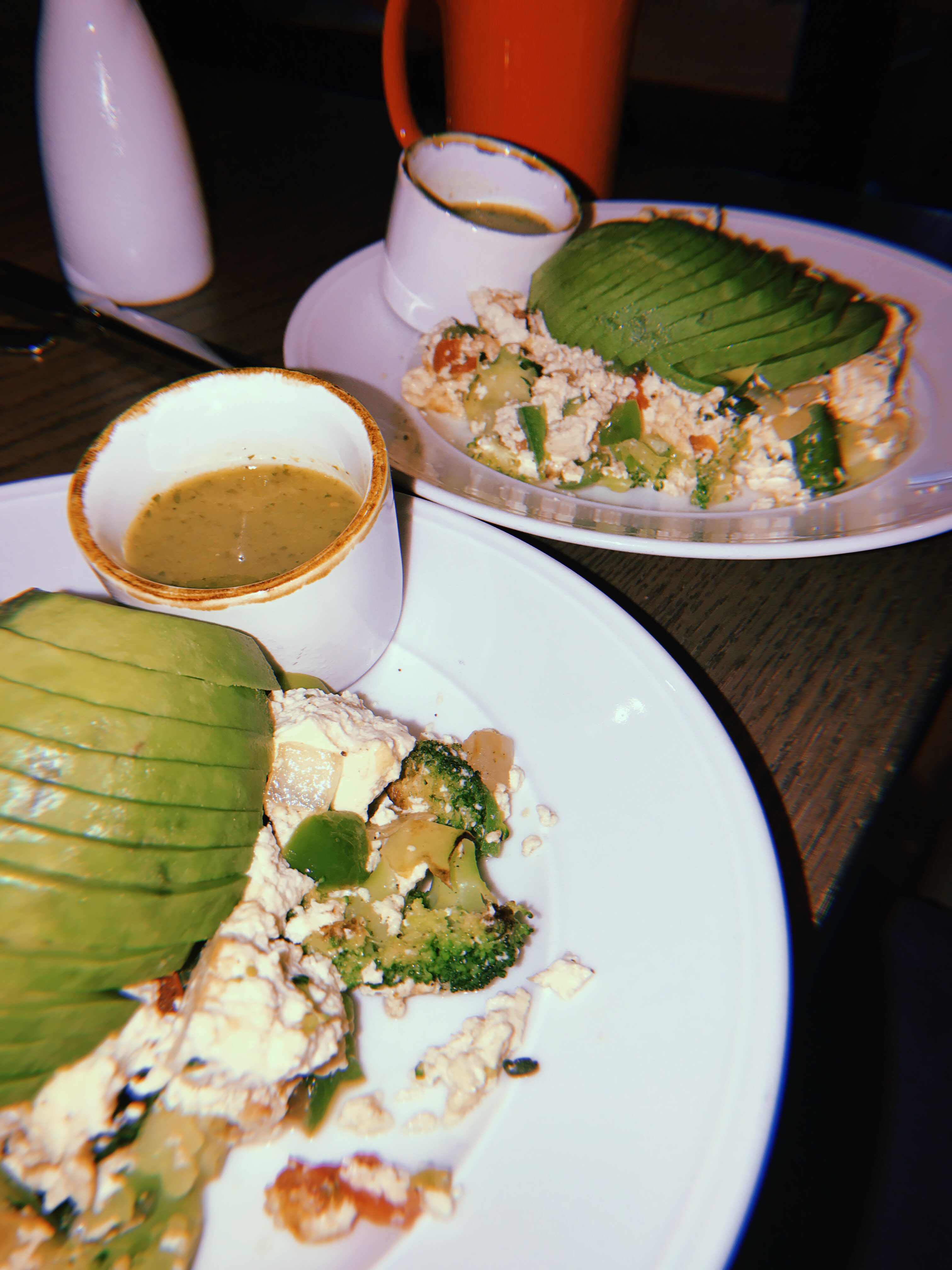 Whenever we were running around exploring the Four Seasons property, we really loved the little poolside restaurant PB&G.  They had a housemade veggie burger, and we ended up getting it 3 times while we were there– not because there was a lack of other options, but because we were obsessed with it!  Several of the staff members who weren't vegan also said it was their favorite menu item on site.  Excellent fries and sides, cocktails if you aren't pregnant like I was, and, as usual, excellent and quick customer service. You can eat on the deck, which has a nice breeze and lots of room for your little one to run around.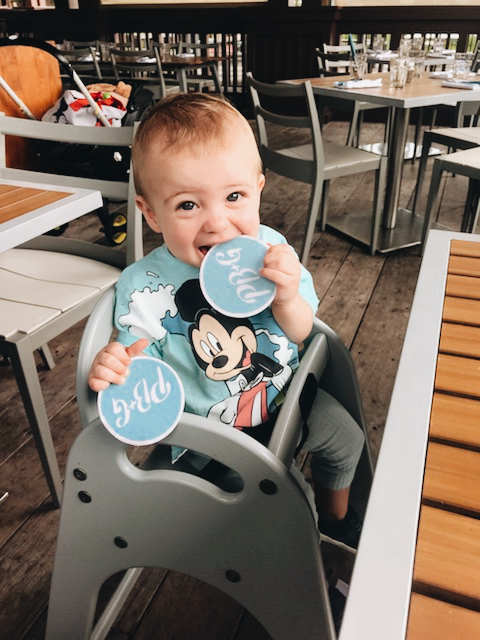 I feel bad because I want to tell y'all where else to eat in Orlando, but I have to be honest with you– we had zero desire to leave the property to dine, except while we were at the parks.  However, I got TONS of vegan-friendly recommendations listed in the comments on this post from you all when I was preparing for our trip, and the most popular recs included: Dandelion Cafe, The Sanctum Cafe, Market On South, Leguminati Vegan Eatery, Ethos Vegan Kitchen, and Dragonfly for an awesome vegan sushi menu!
THE PARKS
So… I underestimated how much of a time and energy commitment it is, going to the theme parks! We only made it to one: Magic Kingdom!!! I'm the worst!  But honestly, we got our fill and it was so fun and special.  Visiting "Animal Kingdom" was never in the cards for us, because it just kind of seemed like a big fat zoo to me, and I couldn't find any solid evidence in my pre-trip research to prove otherwise– and our family doesn't support places like zoos.  The other park– which is really geared more towards adults– that I did want to go to was Epcot, but being pregnant with swollen feet, I just was not up for more walking around in the early September heat.  We were so obsessed with the Four Seasons that after a few hours at Magic Kingdom, going back and relaxing at the pools and in our room sounded HEAVENLY.
BUT. Here is what we did in the several hours we spent at the park!
a) Used the instagram accounts @VeganDisneyFood and @veganmalory to guide me to the vegan-friendly spots at the park! So, so helpful!  We were able to find dairy-free ice cream, veggie burgers, and more using the accounts as our guide.
b) All the little baby/toddler-friendly rides!!! Our absolute favorite ride was It's A Small World… It was just so cute and magical, and there was so much for River to look at! We also enjoyed Peter Pan's Flight, The Many Adventures of Winnie The Pooh, and Dumbo the Flying Elephant.  We also rode the little horse carousel, which River was not so much a fan of.
c) We took the Minnie Van back!  So fun, highly recommend. It was the most efficient way to get back to the hotel, plus just so cute. Go into your Lyft app, and request the Minnie Van… The rest is self explanatory.  They have car seats for you, so don't worry about that!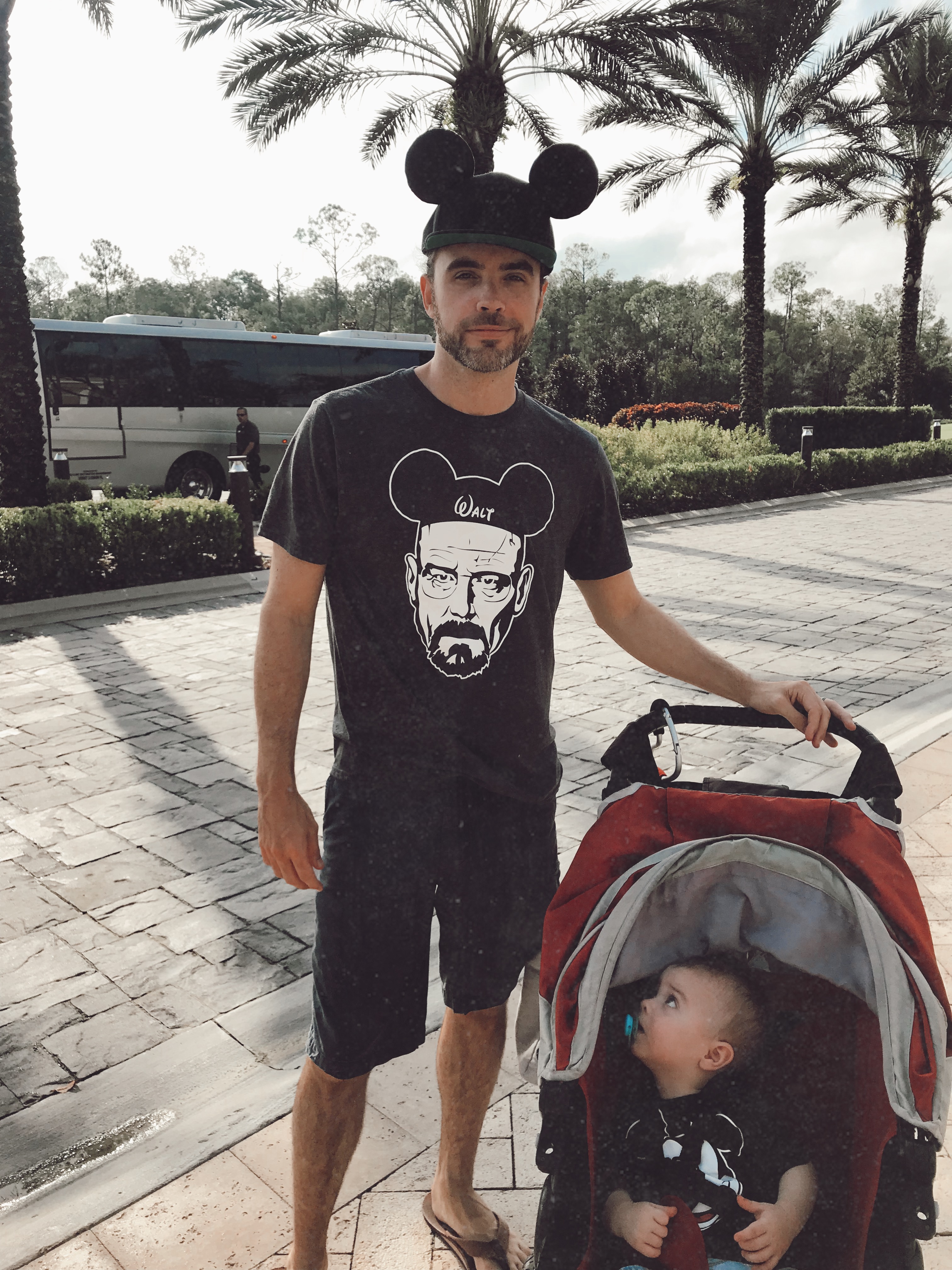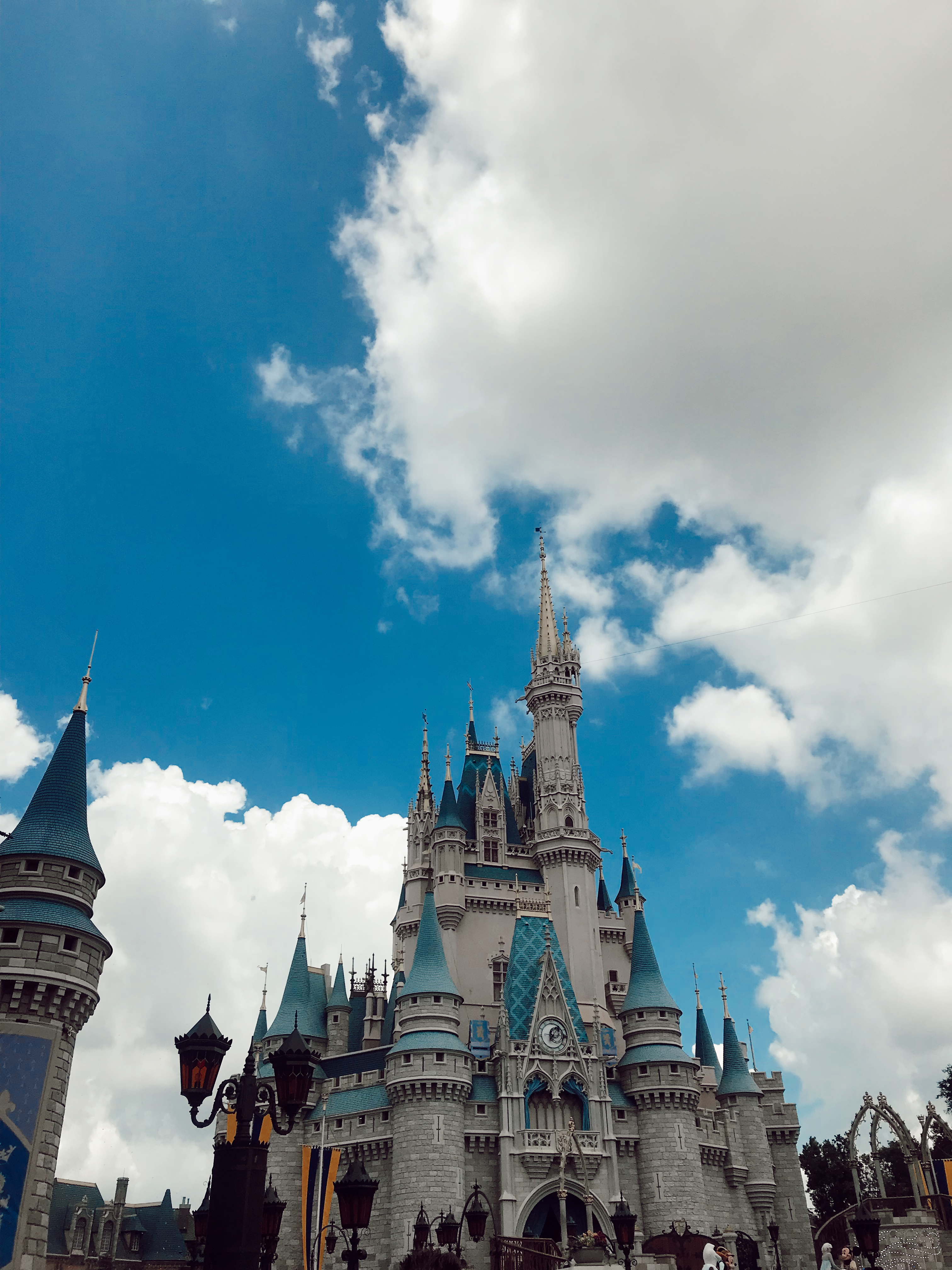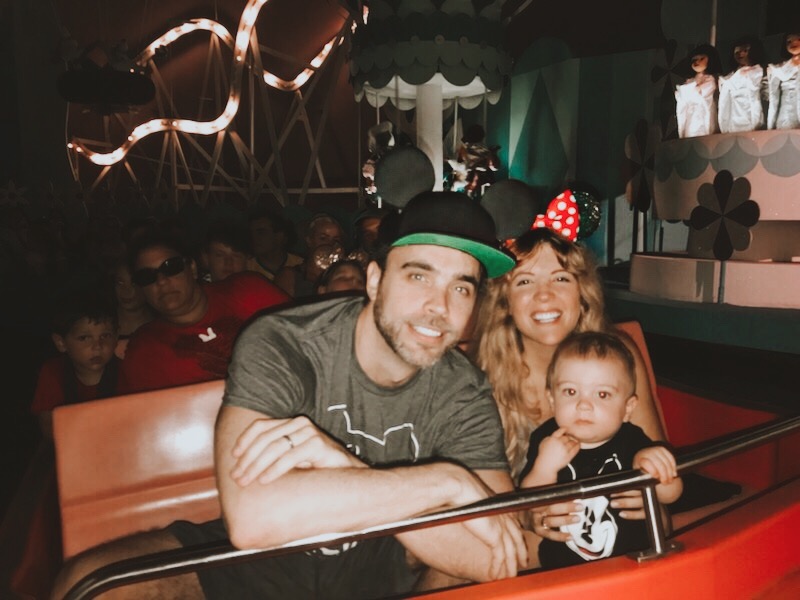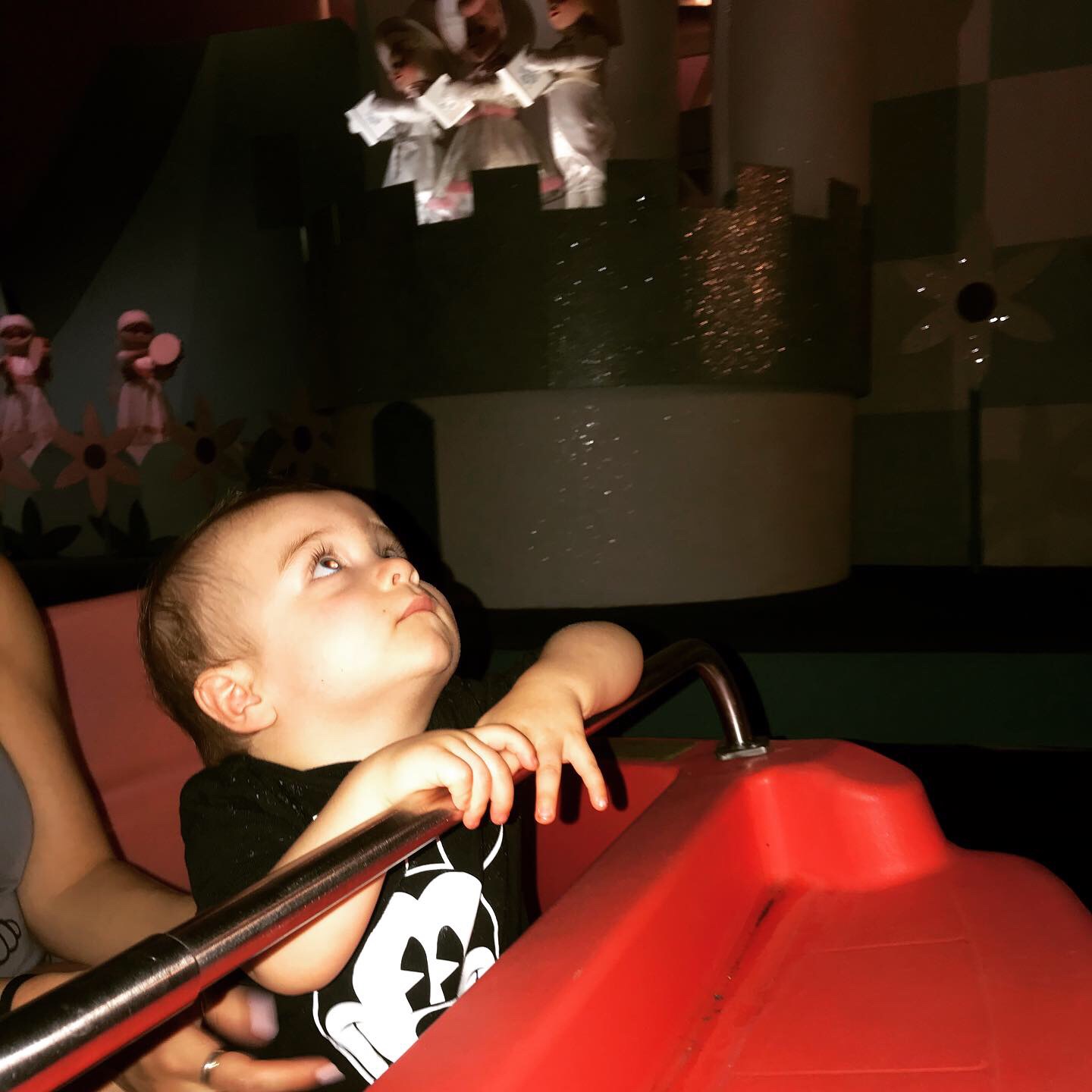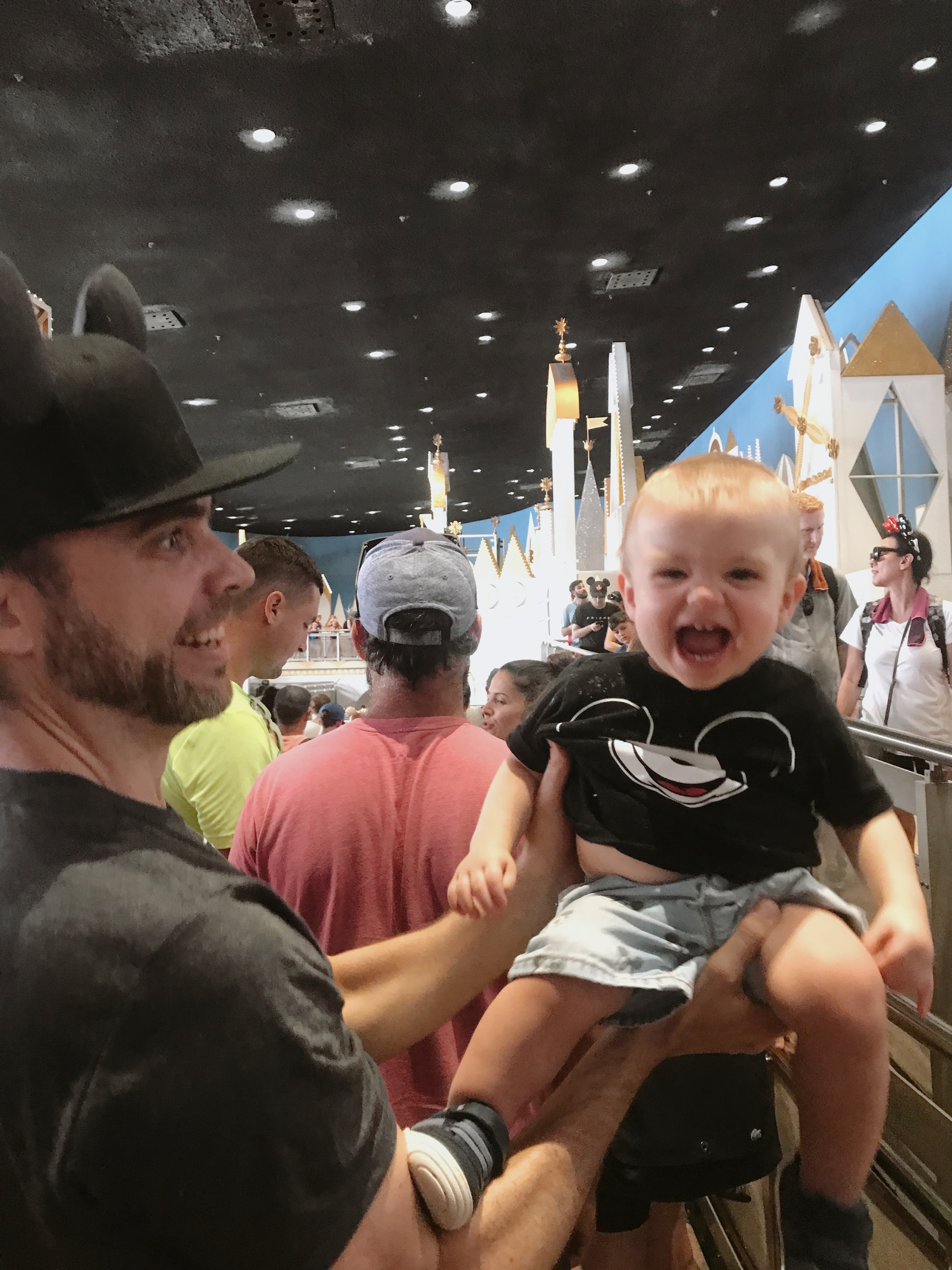 To Sum It Up
I would recommend heading to Four Seasons Orlando + Disney World for any family seeking an experience which is equal parts family-friendly-fun and adult luxury!  You might say "oh but isn't the Four Seasons expensive?" A trip to Disney is expensive!  And all of the hotels in the area are pretty pricey, to be honest.  However, I feel like staying at the Four Seasons was ABSOLUTELY worth the splurge– not only because of how luxurious it was, but because staying there was an entire experience and vacation in and of itself!  I hope this little guide was helpful– as always, reach out if you have any questions at all! XOXOX