Hello, friends!  By very popular request, here is my list of the non-toxic baby items I live by. Each item has been, at one point or another, researched for HOURS by me, so hopefully this saves you tons of time.  As always, anything I've mentioned below is cruelty-free and vegan, in addition to non-toxic.
Thank you for buying using my links– in some cases, not all, I make a very small commission at no cost to you, 25% of which I donate to various animal rescue organizations.
If I've missed any category, please do let me know, and I can edit the article to include. As always, if you have any questions at all, feel free to message or comment. I'm very happy to help you and your little bambino stay safe. XOXO!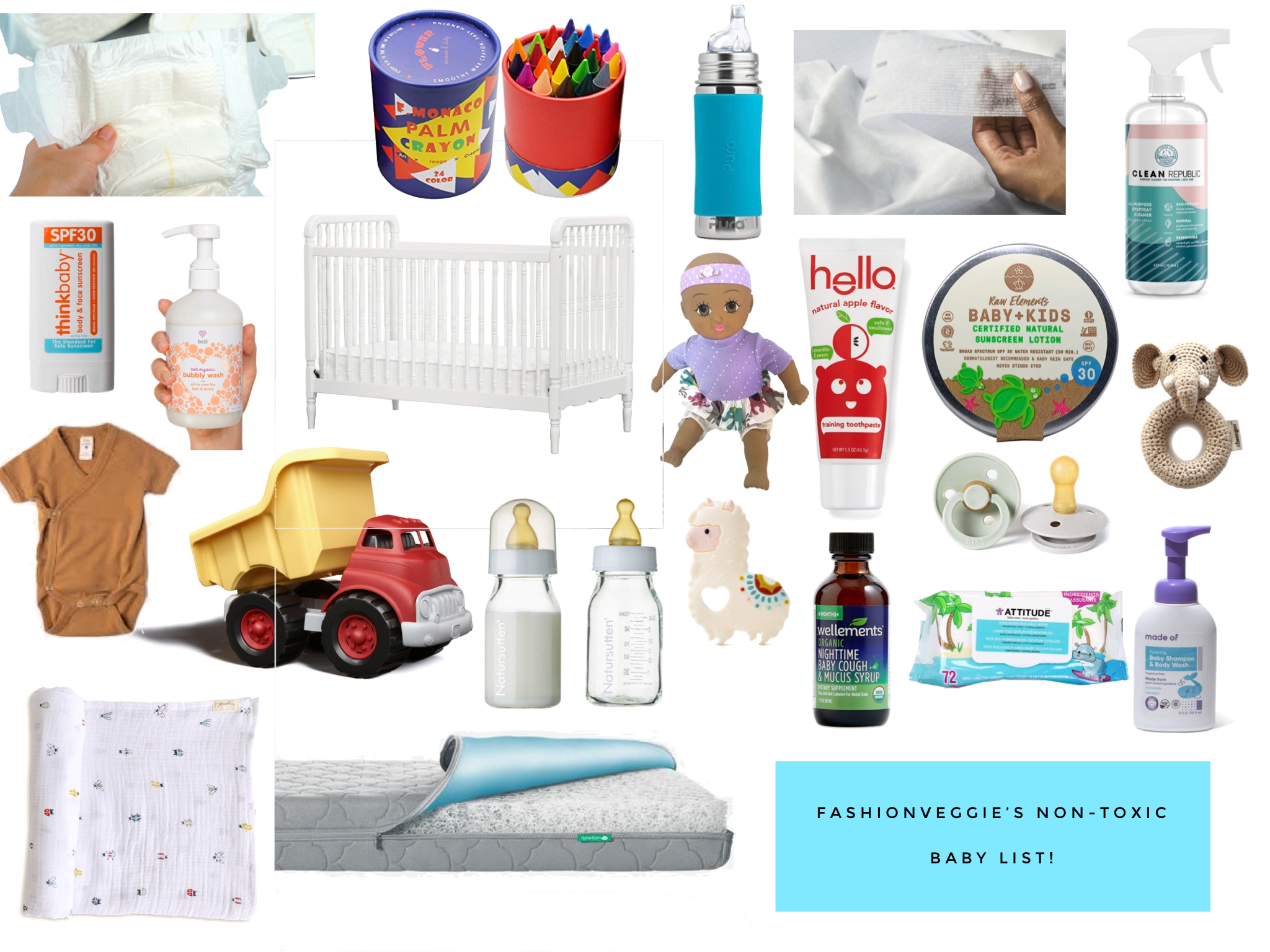 Shampoo/Body Wash
1) Beb Organic.  The best out there. Top EWG rated, organic, products are packaged in glass OR 75% recycled plastic bottle, fragrance-free but smells lovely, every ingredient is EWG rated as a 1 and is 3rd party verified. Used on preemies in hospitals and birthing centers because it's so safe and great for delicate baby skin.
2) MADE OF. Another top EWG rating, fragrance-free, organic.  This one smells like nothing. You can buy up to packs of 6 on Amazon, so if you like to buy in bulk, this is for you. MADE OF also foams up/lathers a lot more than Beb, which tends stay more "slick" on the skin.
Bottles
Natursutten is the best of the best. The nipples are made of all-natural rubber and are shaped as to avoid any bacteria accumulation, and the bottles are free of BPA, phthalates, polycarbonates, and PVC. Made in Europe where the safety standards are much more rigid. Worth mentioning that the bottles are anti-colic in design to reduce gas, as well. Can't beat 'em.
Crayons
This is important because your child WILL put crayons in their mouth, and many brands are super dangerous, containing asbestos, ammonia, formaldehyde, and more horrific materials! I learned the hard way when I randomly decided to google our Playskool brand crayons and almost fainted!!! Anyway, F Monaco brand is the way to go, 100%.  They are so much more pigmented than other brands, which we love, and bigger– so much easier for your child to grip. But most importantly, they have acquired CPSC certificates of US and CE safety certificates of Europe. Made from non-toxic natural wax. Thick and sturdy, so not easy to break like other brands.
Crib
This crib is truly all-the-way-around non-toxic (no lead/phthalates/ formaldehyde; low VOC; UL Greenguard Gold Certified) is the Million Dollar Baby Liberty 3-in-1 Convertible crib.  At $299 it's not super cheap, but your baby sleeps in it every day/night multiple times per day, so I feel it really should be non-toxic if possible. Plus, if this helps you justify the price point– many of these types of beds are WAY more expensive, and this one can turn into a toddler bed when your baby gets old enough for a "big kid bed." If you want this one, I'd recommend snagging it– it does tend to sell out and then get restocked.
The Union 2-in-1 convertible crib is pretty good! 

Meets ASTM international & U.S. CPSC safety standards, Greenguard Gold certified, converts to a toddler bed and day bed, available in lots of finishes. 
Mattress
This brand rejected working with me, TWICE (hahaha gahhh Molly, take a hint) but I'm licking my wounds and definitely still recommending them as the safest non-toxic mattress around!  Because– they just ARE.  The Newton Baby Crib Mattress — in addition to being non-toxic– has been proven to reduce suffocation risk for babies.  Temperature-regulating to keep your baby feeling comfortable and safe. Great for babies or toddlers. Award winning, Greenguard Gold Certified for lowest emissions, recyclable, machine washable (which is important, trust me. You'll get all sorts of gross stuff on your baby mattress.)…. This mattress is IT.
Bottle soap
MADE OF, all the way. Whether lavender, sweet orange, or unscented, they are actually ALL fragrance-free and top-rated on EWG. No artificial ingredients, organic, and foams up REALLY well, leaving bottles and dishes super duper clean.  Love this stuff.
Spray Cleaner
For high chairs, toys, play mats… any surface that needs disinfecting and cleaning after a child has dirtied it up… we use an all-natural cleaner called Clean Republic. Nevermind all those spray cleaners from 7th Generation, etc… In my opinion, those aren't non-toxic enough for a child's high touch area! Clean Republic is great for anything from general cleaning to using it as a veggie wash!!  It's hypochlorous acid (HOCl), which has been EPA-approved and proven to kill Covid, even though it's simply a substance found naturally in the human body, and replicated by scientists by running an electrical charge through a combination of salt and water. Crazy, right? Science, man. We tend to order the gallon jugs and a spray bottle, so we can refill as often as needed. Oh- and I have a code for that one. MOLLY10 will get you 10% off your Clean Republic order.
Sippy Cup
Ok. I have done SOOOO much research on this one. The best of the best is Pura Kiki. Eco-Friendly and incredibly safe, plus durable in case your toddler is a thrower!  Zero BPA, PVC, lead, phthalates, aluminum, PVC, nitrosamines, and other petroleum by-products due to the 100% plastic-free design. Made from #304 food-grade stainless steel, Pura Kiki exceeds all FDA, CPSIA, and European Directive 2002/72/EC regulations. No internal lining so nothing can leech into your child's beverage. If you choose the insulated option, it keeps their drinks the right temperature (but this option is a bit heavier, so keep that in mind. Grows with your baby's needs. Spill-proof. Love this thing!!! Note- in my experience, this design is also recommended by speech therapists over the traditional Sippy cup hard plastic spout design. Who knew that a sippy cup could impact speech and language development? I didn't until recently.
Diapers
For non-toxic disposable diapers, we have used:
coterie— I have a code for y'all for this one! 30% off your order with code FASHIONVEGGIE30. I' m trying these out at the moment and so far, so great!
dyper (you can see my write up here)– we did the monthly subscription for 2 years! Not switching away for any reason other than wanting to try another brand out.
bambo naturals. I'm including these because it's nice that they're available on amazon in case you're traveling or need some in a pinch! Basically these are the healthiest and safest that you can get if you need diapers IMMEDIATELY.
Wipes
Attitude Little Ones Baby Wipes. Top rated on EWG. ECO-FRIENDLY; made of sustainable cellulose, biodegradable. All-natural and fragrance-free.
Cough syrup/Gripe Water/Supplements
Everything is organic and should be refrigerated after opening, just like you'd treat organic produce.  This is because they have not added fillers or preservatives to the formula in order to keep the products as safe and non-toxic as possible. Wellements products are packaged in glass in order to avoid any chemical leeching.
It's worth mentioning is that the majority of the Wellements line is vegan, but a couple of products do have beeswax, etc., so that's something for you to keep in mind as well if you're a vegan shopper!
It's also worth mentioning that regardless of the brand you choose, I would not advise buying this type of product off of Amazon for safety reasons pertaining to third party sellers, etc.
Clothing
I'd say that about half of my babies' wardrobe is comprised of Kate Quinn's organic line. So soft, cutest clothing, and help provide employment to women in Kenya.  I like their organic cotton and bamboo options the best.  GOTS certified. Dyed with low impact, non-toxic dyes. Note: They have HUGE sales ALL THE TIME (as in you can find $5 outfits down from $30) so this is a good brand for you to join their mailing list so you can get alerts! I wish I had a code for y'all, but I'll keep asking them for one!
Hanna Andersson (get the organic cotton pieces). SO cute, so durable (you'll have them to pass down to any subsequent children… this brand does not fade at all), sales all the time. Their organic pieces are certified standard 100 by Oeko-Tex.
Lamaze!  Super affordable compared to most other non-toxic baby clothing brands out there, so we have quite a few pieces from them. Love their onesies/sleepers. All 100% organic cotton.
Toothpaste
This one is very important because babies don't know how to spit, so they'll ingest any toothpaste you put in their mouth. Very important that your child's toothpaste doesn't contain essential oils, flouride, or SLS.  We like the Hello brand best. River seems to really like the apple flavor, which helps when it comes to getting him to actually allow us to brush his teeth.
Baby Powder
MADE OF brand wins for me. Talc-free, made from organic cornstarch, plant-based, great for sensitive skin and eczema, fragrance-free.
Sunscreen
Thinkbaby. Top rated on EWG, the stick is easiest to maneuver. The lotion formula is very thick, which is why the stick is preferable in my opinion.   Mineral-based, reef-safe, non-toxic, fragrance-free, broad-spectrum, water-resistant. (Note: both ThinkBaby formulations received very good safety ratings on EWG, but the sunscreen was slightly better.)
Raw Elements Baby Sunscreen Tin. (ECO-FRIENDLY OPTION!) I love the tin! Super easy to apply. Organic, soy/gluten/nut-free, zero waste, reef-safe, plastic-free and compostable packaging. All natural and packed with anti-oxidants. Top rated on EWG.
Play mat
The only truly non-toxic foam mat I've found is Comfort Design Play Mats. Read about why this is what I chose, here. As far as baby mats go, these are pretty easy on the eyes, as well.
Toys
Pacifier
The only non-toxic paci either of my kids would accept into their mouth for more than 5 seconds is the Bibs Baby one. Natural rubber, with zero bpa/pvc/phthalates/lead. Made in Denmark, like so much of the really good, safe baby stuff out there! The other eco and non-toxic brands I've explored have a more angular nipple, which babies don't tend to like as much in my experience and based on my talking to other moms. I think it's because it doesn't imitate a nipple as well. I don't want you to waste your money so this is the one I'm recommending!
(Yes, every baby is different! If your baby prefers an angular nipple, check out the Natursutten non-toxic baby paci option.)
Crib Sheets
Please note- the mattress I've recommended doesn't need crib sheets!  However, if you have another mattress and are simply looking for non-toxic crib sheets, these are the ones that Riv currently has on his bed, and I loveeee them. Super soft and great for either sex. Organic and ethically-made.
Ok, that about does it!  Hopefully you found this helpful! If you're looking for more "regular" baby items (ie- the best nail clippers or swaddle), check out this article I wrote awhile back. XOX