OK real talk… Upon hearing the name Princess Polly, one is like… Sooo, is this a clothing boutique for adults?
It totally is, and I am on board!   I am so happy with the fit and quality of this brand, and I appreciate that they have ample plus size + sustainable options available. They gave us a discount code:  XOMOLLY.
These are the looks and sizing details from my most recent tiktok video!  (excuse the janky photos below.. they are screen grabs from my videos)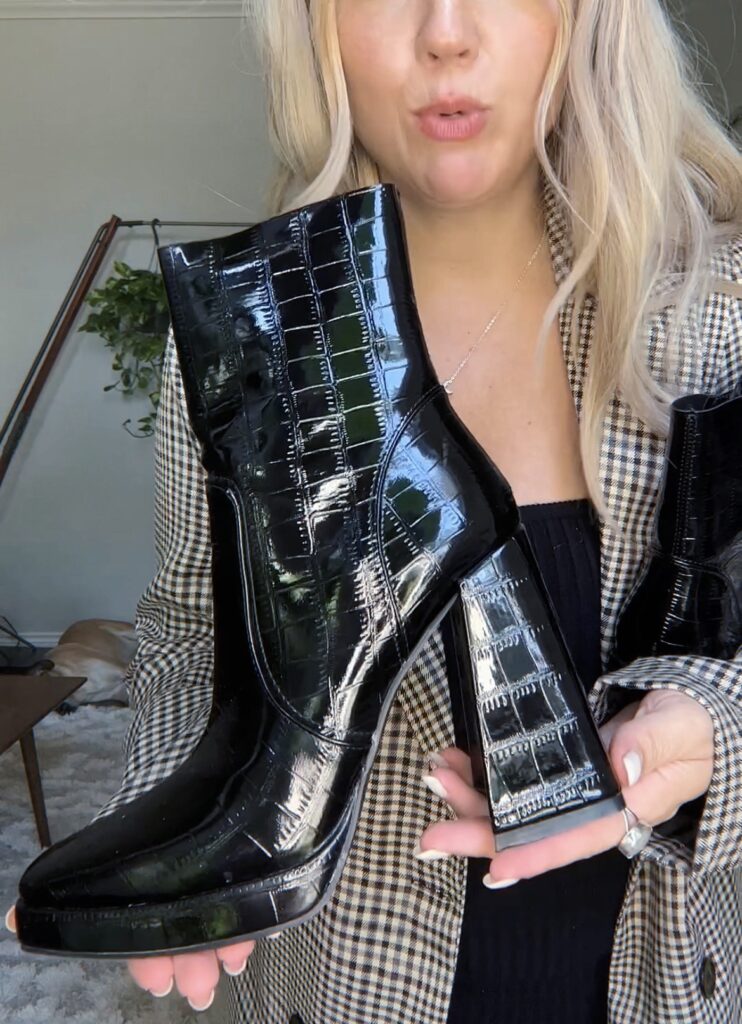 LOOK 1
black set (I'm in a m/l)– this is SO exceedingly comfy and sexy all at once!  Very soft, high end sweater material.  I personally wear it without a bra, and I think its a great piece for someone who is wanting to experiment with showing their tummy a bit, because you can adjust it to show very little OR a lot of skin, and because the fabric is thick and dark so it doesn't reveal every bit of texture around that area. It also would be FAB with a bump– even a third tri bump– because its super stretchy! I think this outfit is so versatile– great with sandals in hot weather, great with a jacket and boots for Fall/Winter– and I adore it.
blazer-– I chose my larger size for an oversized fit after reading reviews; I'm in an 8.  I love this blazer– It is so versatile and would be great with faux leather leggings, a dress (as shown in my video), or used to elevate jeans and a white shirt… Whatever!  Well made and looks more expensive than it is.
block heel boots! I'm in love. Hottest shoes I've worn in awhile, and fantastic price point. Gorgeous vegan leather (you'd never know it wasn't real) and fits true to size.. I'm in an 8.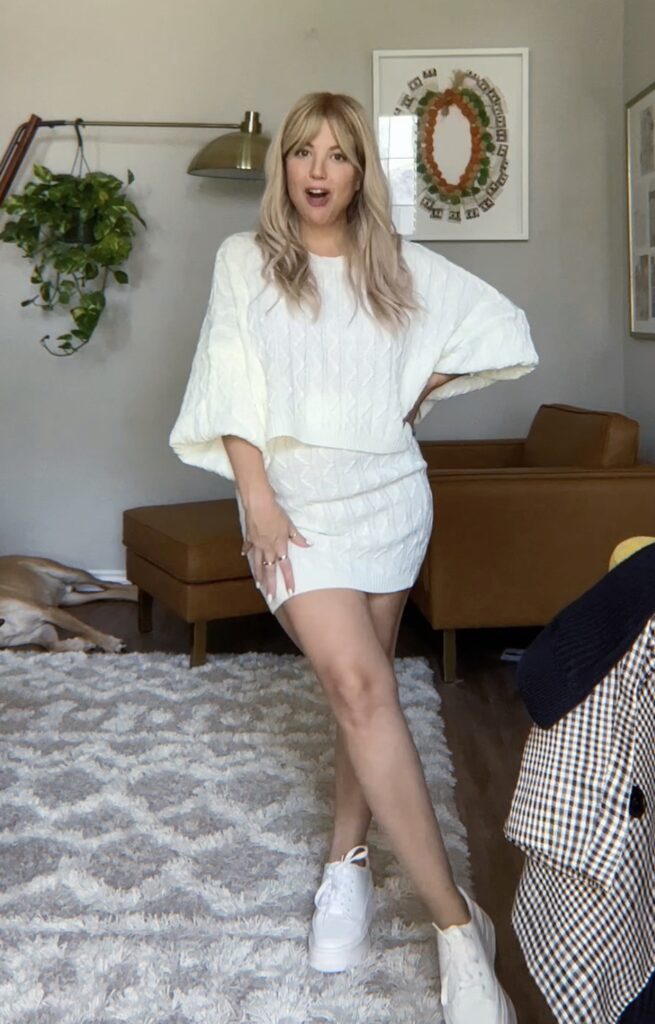 LOOK 2
sweater + skirt set (I'm in a L/XL; I sized up for a longer, cozier look than the snug, short fit shown on the models, and I'm glad I did).  Absolutely the cutest. Sweater material doesn't feel SUPEER expensive, but it also doesn't feel cheap– if that makes sense. Great for subtly showing off your cute booty!
platform tennis shoes: true to size with socks, I'm in an 8.  Very on-trend, love the look, vegan leather.  Would be great with leggings as well.
I hope this was helpful to you!  Don't forget code XOMOLLY to save monies! xx