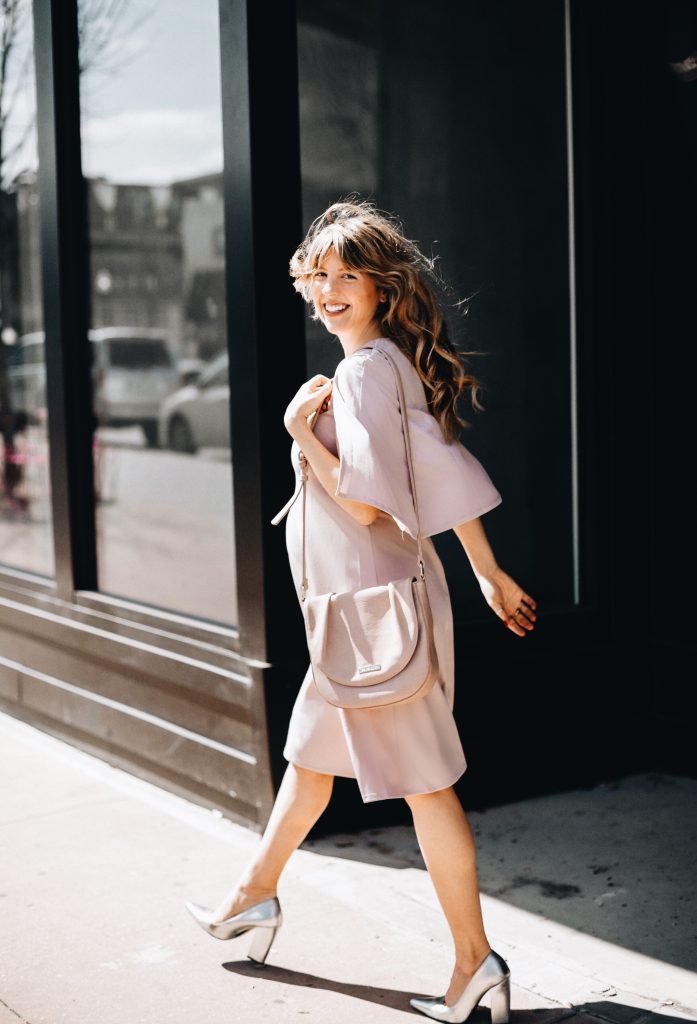 dress: ASOS maternity // vegan bag: Jeane & Jax // shoes: Stella McCartney (old); similar pair by Stella ON SALE linked here
One of my goals is to start putting more of my day-to-day looks on the blog, instead of just on my Instagram…  Especially my maternity looks, in hopes that it will help someone else. Because let me tell you, dressing a new bod can be tricky!  Pictured here is one of my preggo OOTD (outfit(s) of the day), which I wore last week when I was in major "boss lady" mode, going from brand meeting to brand meeting.  (When you're pregnant, you tend to want to be in leggings constantly. Unfortunately, life does not always allow for such behavior.)   Like the majority of my pregnancy wardrobe, dusty rose dress is from ASOS; they have such great, chic, mom-to-be looks at prices that won't break the bank.  The shoes are last season's Stella McCartney (I love these similar ones by Stella as well, and they are on major sale!), and the vegan bag is a brand new addition to my closet that came from ethical company Jeane & Jax.  You should check them out– they are super high quality and are also reasonably priced!  I love the neutral, high end lining inside the bag, as well as the rose gold accents.
Style tip:  I have always loved a monochrome look (specifically, wearing different pieces that are in the same color family– but not the very same color), and this is especially true when pregnant.  It lends an elongated effect to your look, and makes you look instantly put together… No one has to have a clue how nauseated and tired you actually are!
xoxo-
Molly