If you've been looking for luxury skincare without synthetic preservatives, additives, paragons, phthalates, artificial fragrances or dyes… I urge you to check out Rosemira!  (Heads up: 90%, but not all, of their products are vegan! So be sure and look at the bottom of each product's page while shopping, they clearly disclose when beeswax is used and when a product is vegan.)  NEVER animal tested, obviously!
Aside from transparency on each product page, I find the website super shopper-friendly; there are skin type recommendations, directions, and notes on each product such as "great for mature and dry skin, and also for rosacea" and "use this product sparingly, and always directly after cleansing."  I feel like this makes you feel less overwhelmed and more empowered to achieve best results.
When working with Rosemira, I told them that I had skin on the dry side, and that my main focus was anti-aging/reversing damage– so they sent me products with that in mind. After several weeks (I began using the products in late August) the products I can personally vouch for:
Super lightweight and fast-absorbing.  This serum works well on areas with broken capillaries (plenty of those after pregnancy!) You simply use a small amount after cleansing, gently rubbing it into your skin and paying close attention to stressed-out areas of your skin and areas where the sun naturally tends to hit your face. These Rosemira serums are somewhat of an investment compared to what you might find at your local drugstore, but it will last you forever as you only use a tiny amount at a time, and I LOVE the way my skin looks and feels after putting it on. You can just TELL how clean the formulation is. It leaves you with a slight citrus scent, as well, which I like.
The Tinted Sunscreen Serum (Bright Gold)
I LOVE a good tinted facial sunscreen. Super lightweight and only mildly protective, I wouldn't necessarily use this as my primary facial sunscreen on days where I plan on spending tons of time outside. It is more something I would use in an additive way, kind of as a highlighter replacement, or when I have a mostly-indoors event but still want some sort of daily coverage… It truly does give your face such a glow! Important to shake before use. Love the natural, woodsy scent.
Divine Honey Rose Replenishing Cream
This is cool, because even though this is one of their few "vegetarian-friendly" formulations, they have a vegan version upon request!  I did that, and loved mine. This cream is perfect for daytime; in my opinion it almost goes on more like a lotion, going on silky smooth and absorbing into the skin quickly. Makes my skin feel smooth and clear… I will definitely re-order this once I run out!
Super, super rich and moisturizing.  I actually really enjoy the way it smells– very natural. Cacao butter and essential oils make this product SUCH a decadent treat for your skin.  I will say, it is so thick– I found it best to put a pea-sized amount in my hands and warm it up a bit before application in order to help its spreadability. I concentrated around my eyes and on dry areas of my face and applied it right before bed (this might not be a product I would use during the daytime, as it is a heavy moisturizer… I LOVE it at nighttime, though.).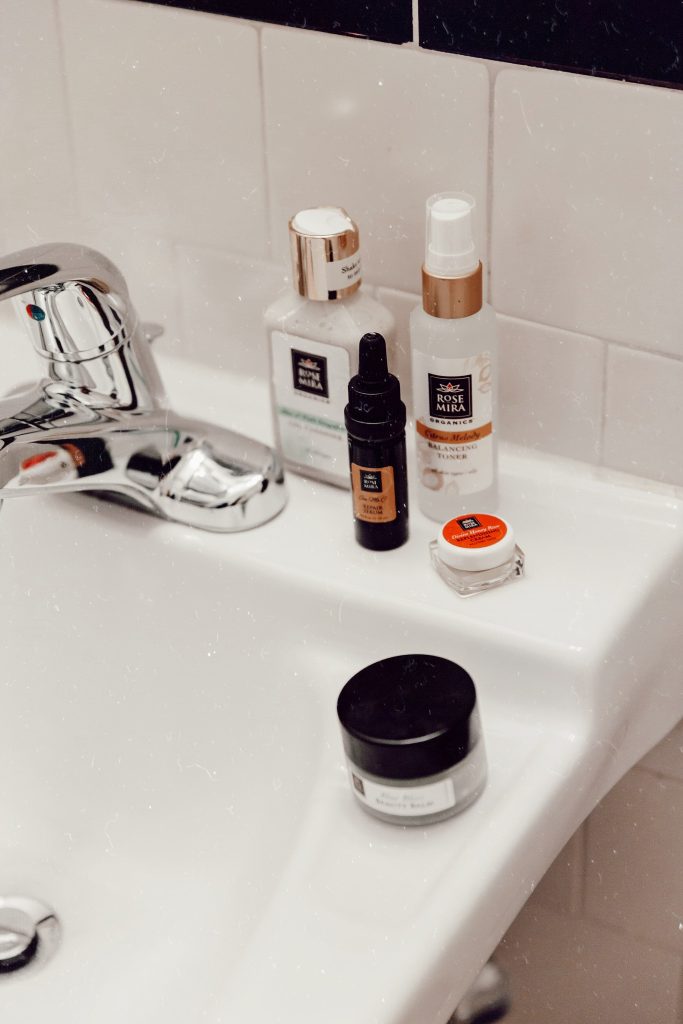 I am such a fan of Rosemira— the unique and luxury products, the clean ingredients list, and what they stand for as a company.  I would love to hear your thoughts on any of the Rosemira products YOU swear by, so I can give them a try next
In a nutshell: If you are in a place to invest in premium, organic skincare right now, I would highly recommend these products!