You've undoubtedly heard of the expression "death by a thousand cuts."
These days, though, you hear more about deathly amazing eyebrows by a thousand cuts!  Especially if you live in Dallas, Texas; the stomping grounds of "The Bladerunner," i.e. Amber Garton of Enlighten MD.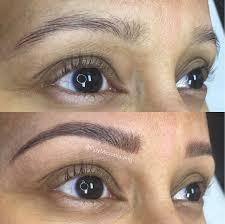 I've always had brows on the wispier side; a little bit light and sparse in certain areas.  If you've followed me for awhile, you know that I am a makeup minimalist to say the least. But I would at LEAST try and fill in my brows every day, which was a total pain.  So after hearing murmurings about microblading for a year or so, I finally decided that I wanted some brows that were, as the kids say, "on fleek." (Do they still say that?)
Full disclosure: I stalked Amber, hard, before pursuing getting my eyebrows microbladed by her. She has an Instagram that showcases her work (check it out), and I would sit there, mesmerized, for 30 minutes at a time– just watching her transform her customers' entire faces with teeny tiny strokes of a blade.  And she was GOOD.  Her creations zero percent appeared to be "tattooed on," even when the she had very little to work with at the start.  Another thing that set Amber apart from the rest, in my opinion, was that her brow aesthetic wasn't one-size-fits-all.  There are quite a few talented microbladers are out there these days (not to mention the no-so-talented ones… Just do a quick search on Instagram), but most of them have a certain "look" that they tend to execute regardless of the nuances of their canvas; oftentimes, its a signature dark, super-arched brow, or one which starts out lighter at the inner corners and then deepens substantially at the outer corners.  But what I was really looking for was someone who would give me the right brows for MY face– and that meant the right color AND the right shape.  Remember– this is a semi-permanent tattoo on your face. This is not the time to choose someone on a whim, or to bargain shop.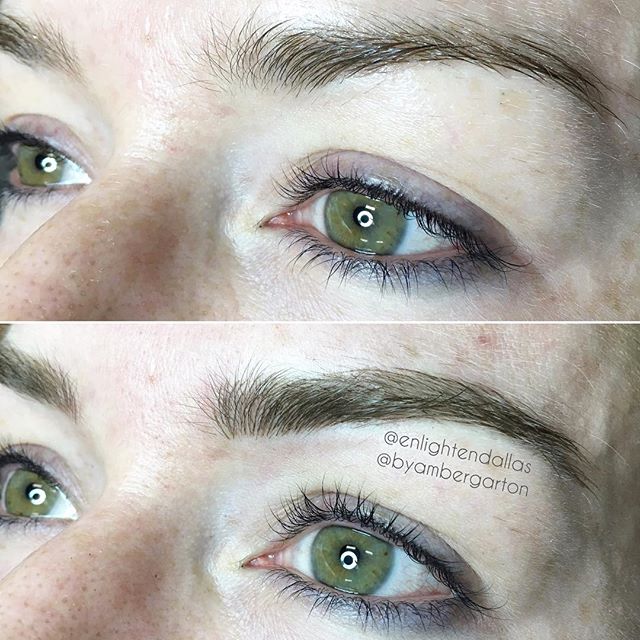 So I took a deep breath, messaged Amber, and a couple of weeks later I found myself entering the doors of Enlighten MD, a luxury, much-buzzed-about medi spa.  While I introduced myself around to the friendly, super cute girls who work there (I wanted them all to be my friends), I noted the chic clothing/accessories boutique attached to the spa.  Welp, I knew what I would be doing to pass the 30 minutes it took for the numbing cream to kick in.  Two candles, a necklace, and a pair of yoga pants later, I was finally reclining in Amber's exam room.  Amber is about 5 feet tall, basically a gorgeous little smoky-voiced pixie, with big blue eyes and hair down to her butt.  She has long, colorful nails covered in glitter, and she listens to the blues while she stares intently at your face. I was immediately put at ease; she has the air of someone who wants to take really great care of you; the air of someone who can slice you open with a superfine blade, but you barely notice because you are singing out loud with her to Otis Redding.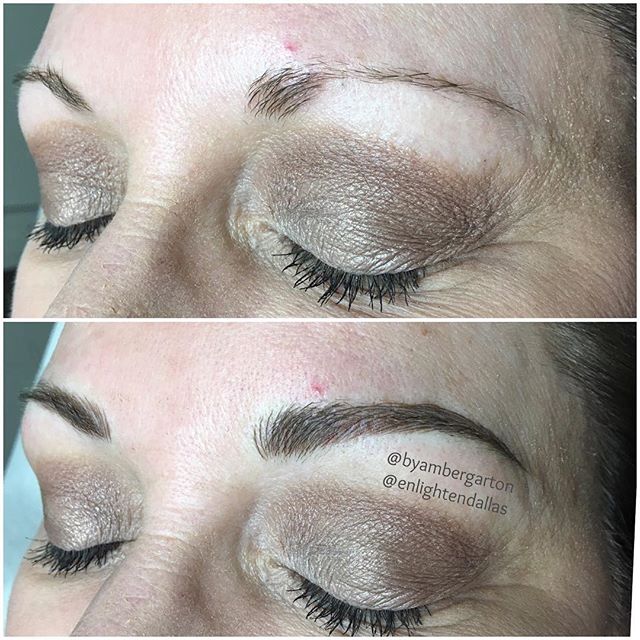 I was right- we had a blast throughout our 3-hour-long appointment.  But through the fun, you could see her perfectionism and professionalism.  She took the time to explain to me her methodology; the veggie-based, organic ink she loves to use; and the purpose of each little tool.  She drew a brow on me and asked how I liked it– did everything look perfect, did I feel comfortable with where it started and ended? You can tell that she truly loves what she does.  The pain level was about a 5. No big deal. Worth it for perfect brows, am I right?  The most daunting thing is that you really have to be careful with your new brows for a couple of weeks afterwards.  No scratching them– and chilllddd, they will itch for a few days!  And no sweating– this would make the ink leave your pores. You need to keep the brows shiny with a petrolatum product; but not WET, lest the scabs loosen.  Amber explained all of this multiple times in a patient, concerned manner… She can only do so much,  it's up to us to maintain her work.  I mention all of this because: just like choosing the right technician is très important, so is making sure that it is the right time to get this procedure done.  Don't get your brows 'bladed right before you start training for a marathon or go on a scuba diving trip. Also, you probably shouldn't get them done the day before a photo shoot– the brows will be noticeably darker than average for about a week or so while they heal.
I left Amber that day feeling like a strong-featured goddess. I actually loved the phase where my brows were super dark– it's a cool look!  I babied my eyebrows for a couple of weeks, enjoying the for-once-valid excuse I had not to go to the gym, and then returned to Amber for my touch-up.  She went back over areas that didn't "take" the pigment as well, or areas that just needed a little extra "oomph."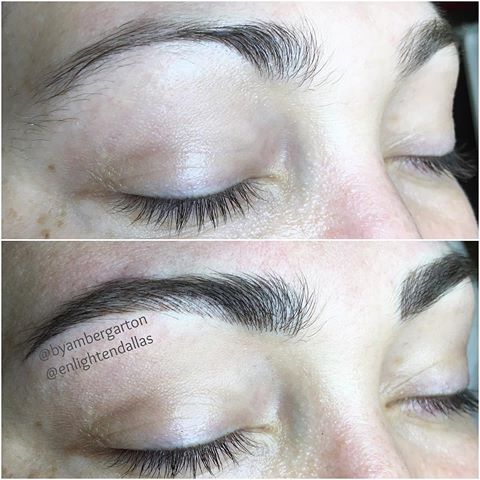 I have been biding my time before writing this review, because I wanted to be able to honestly describe how well the brows hold up.  I got mine microbladed about 5 months ago, and they are still going strong! They will hopefully last for at least a year before I go back to Amber for my maintenance visit.  I do think that it is safe to say: I am hooked. I don't have to think about my brows whatsoever, except to pluck a few strays every couple of weeks or so.  As Amber and I discussed– some girls need to be high maintenance in order to be low maintenance.  I am one of those girls; I love never having to put makeup on my face or think about my brows or worry about what I eat… It's such a carefree way to live.  But because I am not naturally glowy-complexioned, full-browed, or fit, this means that I invest in 3 "high maintenance" things that I will probably be hooked on for the rest of my life: good skincare, microblading, and personal training. And out of those 3, microblading really is by far and away the least time consuming or expensive– you just need to come in once every year or two! Well worth it for fleeky brows, if you ask me.
If you have any questions AT ALL about the process or my experience, please feel free to ask, as always.  But let me leave you with my final thoughts, in the order of importance, on microblading: A) Find a good tech!!! Don't be wooed by techs who boast low prices around the $200-300 range; most likely, they are just trying to build up a portfolio and get their feet wet. You want someone outstanding.  B) Choose the timing carefully so you don't screw up the aftercare;  C) Don't worry about the pain.  It's barely worth mentioning, but it's definitely one of the questions I get the most.  If you don't live in Dallas, I would do extensive research before choosing a brow specialist  (remember, its a tattoo…on your face)  and I would even consider making a trip in order to go to Amber.  Especially if you're into that cruelty-free life, as she uses all animal-friendly materials.
Love you guys!  Send me pics of your new brows when you get 'em!
xoxo
M
Info on my technician:
Amber Garton at Enlighten MD
214-964-0860 for questions or appointments