I recently tried Mooala, a plant-based beverage company based in Dallas, and knew it was something special the moment I took a sip. I couldn't wait to share it with the family!
 So, what is Mooala?
Mooala makes organic, dairy-free, nut-free, gluten-free, better-for-you plant-based beverages! They are well known for their Original Bananamilk, which is organic and made with real ingredients like bananas and sunflower seeds with a hint of cinnamon. The brand has lots of  other options—Chocolate and Strawberry Bananamilks, Almondmilks (available in Original and Vanilla Bean), and Coconut Oatmilk. Most recently, Mooala launched a line of organic, plant-based creamers in three flavors—Vanilla Bean, Oats 'n' Crème and Banana Nut.  Plus, Mooala is Texas-owned and operated, which makes me an extra big time superfan!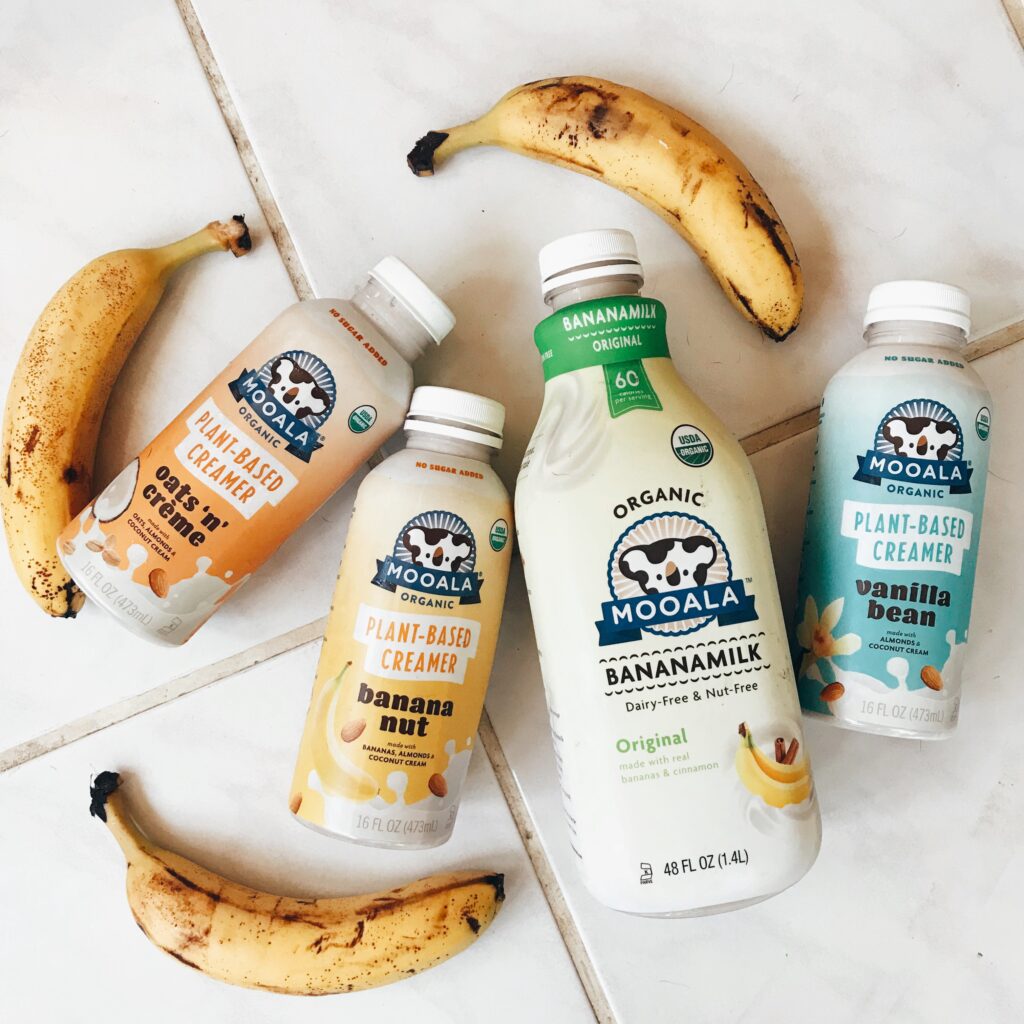 The Original Bananamilk is my absolute favorite. My husband makes smoothies for us every day with lots of organic fruit, hemp & chia seeds, almond butter, and greens, and this is the perfect base. Between the smoothies and the fact that bananas are River's favorite snack, our household typically goes through about 35 bananas in a week!!! I'm not even exaggerating, it is ridiculous and a running joke in our family.  The Mooala Bananamilk has been a much-needed and truly awesome addition to our fridge.  Now, when we make our daily smoothies, we only add ONE frozen banana to the blender for a creamy texture, and then we add about 3/4 of a cup of the Original Bananamilk.  IT IS SO GOOD, Y'ALL!  It has also been fabulous as a little treat for River. He really seems to love the taste, and I feel comfortable giving it to him since Mooala is made without a bunch of yucky fillers, carrageenan, or GMOs. Personally, I also like to drink it on its own- it is super light and refreshing, which I appreciate as someone who hates the feeling of being overly full.  
Another hit in our house has been the Vanilla Bean Plant-Based Creamer! I am not a coffee drinker myself, and Matt is cutting down but still HAS TO have his 2 cups per day.  He's a huge fan the Mooala creamers, especially the Vanilla Bean. It's made with real vanilla beans and the base is a blend of coconut cream and almonds.  Besides the great taste, these creamers are only 10 calories per serving and have absolutely no added sugar. They're thick and creamy and don't break down when added to hot coffee (an undesirable side effect of some other plant-based creamers on the market). I tried the creamers in a tiny bit of coffee, just so I could report back to y'all about my favorite, and I agree it's the Vanilla Bean, followed closely by the Oats 'n' Crème!  If you're a fan of oatmilk, you must try this creamer.  The Banana Nut option is a nutty take on Mooala's bestselling banana milk and a fun option to change up your morning coffee.
Overall, I'm just super, super excited about Mooala.  An ethical and health-conscious company coming out with delicious, organic, non-GMO plant-based beverages?  Sign. Me. Up. 
You can find Mooala's core line and lots of spots like Kroger, Costco, Tom Thumb, and Whole Foods, while the Creamers are available at Central Market stores throughout Dallas. There's a store locator on their site that I recommend checking out before you go jumping in the car. Speaking of their site, you need to check out the "recipes" section if you're creative in the kitchen or even just a smoothie enthusiast… I spent way too much time today perusing handfuls of the the gorgeous and yummy Mooala-based creations. 
Try Mooala and let me know what you think! XOXOX