We've never spent so much time at home as we have in 2020.  And keeping our surroundings clean is the name of the game!  But I've been worried that perhaps all this extra cleaning everyone is doing might come some potential unwanted effects; namely, excess exposure to not-so-great for you chemicals.
Luckily– we have options!  Enter: Leafy. Leafy is a Florida-based, non-toxic cleaner brand– and they have everything! They have cleaner for floors, windows, ovens, kitchen, bathroom…  and lubricants, too! After using them for the past 3 weeks,  I can confidently report that Leafy is my favorite cleaner brand I've tried.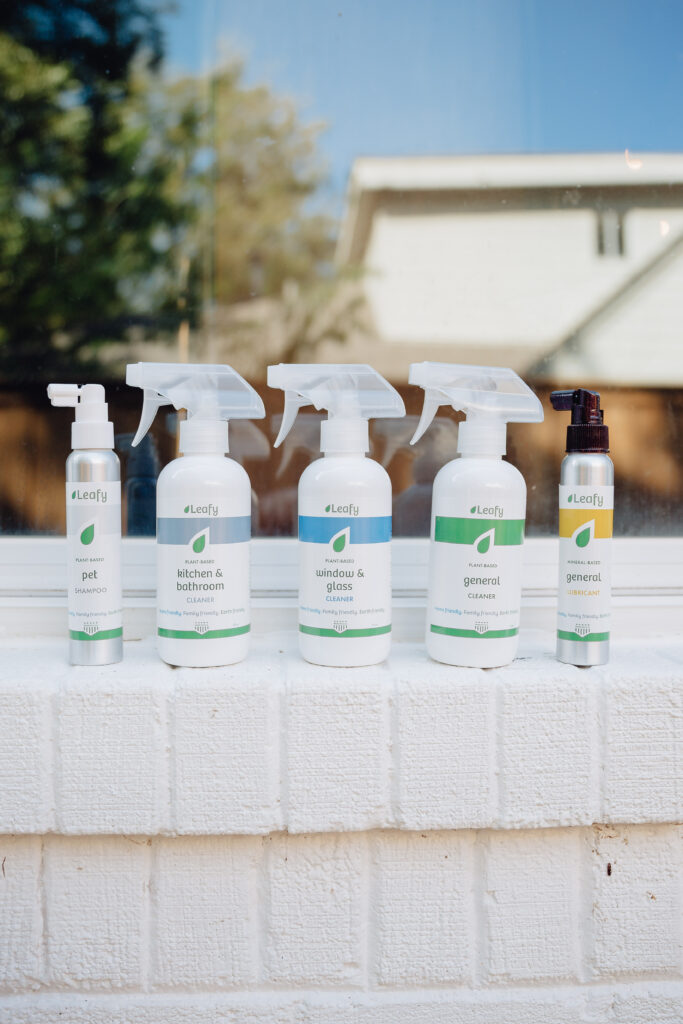 WHY is non-toxic so important when it comes to cleaning products?
Environmental experts estimate that the average household contains about 62 toxic chemicals– most of which are related to our cleaning products, fragrance, and self-care items. (see my article on the fragrance loophole to see why I only use and promote products with no synthetic fragrance.)
The aforementioned chemicals are linked to asthma, reproductive disorders, hormone disruption, neurotoxicity, and cancer. SCARY, right? There's good news, though… we have the power to choose products that don't expose us to these risky chemicals!
Things I love about LEAFY and why I think you'll love them, too:
All their products are food grade, plant-based, non-toxic!  YOU SHOULD NOT DRINK THIS. But as Leafy says, "if you did, you'd be fine." 🙂
The ingredients are sustainably sourced and biodegradable.
No testing on animals!
No synthetic fragrance.
Consumers were blind-tested and preferred the efficacy of Leafy vs Clorox, Mrs. Meyers, and other top, not-so-healthy-for-you brands!  So, not only are these products better for you… But get work better, too.
Additionally, I really like that under each product, you can hit "ingredients" and each component of the product is clearly listed, along with a laymen's explanation of what it is & what its purpose is.  THIS IS THE RADICAL TRANSPARENCY I LIVE FOR. No hidden "parfum" ingredients, etc!
So in conclusion… Give Leafy a try.  Make a move to prioritize your health without sacrificing hardcore cleaning efficacy.  It's worth it!
DISCOUNT CODE: MOLLY15 for 15% off Leafy products for the next 30 days! 
xx
Molly