As I have mentioned before: Rachael Ray I am not.  It is necessary for my self-esteem that all attempted recipes are idiot-proof. Seitan stir-fry fits the bill, as I only burnt myself with hot oil once and it barely hurt. My favorite thing about this meal: the minimal prep/maximum taste combo.  Bonus: it is invariably a hit.
prep time: 30 minutes max
ingredients:
1/4 cup of sherry (tip: don't use "cooking sherry," which contains tons of sodium; be sure to use dry sherry, which you can find sold with other fortified wines.)

1/4

cup of 

water

1

tablespoon

of

hoisin sauce

1

teaspoon

of

cornstarch

1

tablespoon

of

brown sugar

1

tablespoon of

 

lime juice

1/8  of

teaspoon

salt

4

teaspoon

of

canola oil (

divided)

8

ounces of

water-packed seitan (

preferably chicken-style, drained and patted dry)

2

tablespoons of

 

chopped peanuts

1

teaspoons of

chopped fresh ginger

2

carrots

 (peeled and thinly sliced)

1

bell pepper (

thinly sliced)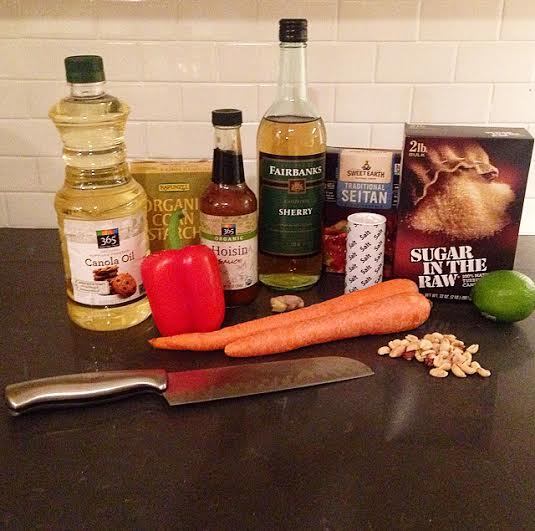 Directions:
Whisk sherry, water, hoisin, cornstarch, brown sugar, lime, and salt in a small bowl.
Heat 3 teaspoons oil in a large nonstick skillet over medium-high heat. Add seitan and cook–stirring occasionally– until crispy (4 to 7 minutes).
Add the remaining 1 teaspoon oil, peanuts, and ginger and cook, stirring, for about a minute.
Add carrots and red pepper and cook, stirring, for about 1 minute.
Whisk the sauce again; add it to the pan and stir to coat. Reduce heat to medium, cover, and cook until the vegetables are tender/crisp, and the sauce is thickened (typically for about 3 minutes).
…. anddd done!  Now, eat until uncomfortably full.